Monday, February 23, 2015 -

4:30pm

to

6:00pm
18th Avenue Library, Room 205, 175 W. 18th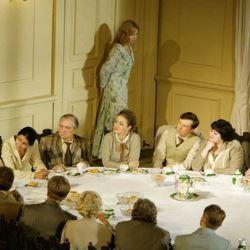 Emily A. Erken presents "Contemporary Eugene Onegins: Social Media and the Reorientation of the Russian Intelligentsia in the Twenty-First Century." This lecture is free and open to the public, Monday, February 23 at 4:30 p.m. in 18th Ave. Library, Room 205.

Since the early 19th century, Russian intellectual life has been characterized by a binary division between Eastern and Western identities: Slavophiles vs. Westernizers, communist ideologues vs. freedom-seeking dissidents, and now in post-Soviet Russia, those who prefer conservative or liberal social policies. Yet as Alexei Yurchak points out, the experiences and identities of Russians are far more heterogeneous and multi-faceted. In Moscow and St. Petersburg, individuals who describe themselves as "educated people" (obrazovanye liudi) interact with the concepts of being educated, being creative, and being Russian in multiple ways. These identities are constantly developing and the processes of change are enacted through play with language, gesture, music, and other forms of expression. This presentation explores the multiplicity of experiences and identities in contemporary Russia by examining the responses of "educated people" to a seemingly apolitical art form - classic opera.

In 2006 the opera director Dmitri Tcherniakov staged a new production of Tchaikovsky's Eugene Onegin at the Bolshoi Theater, Moscow. Based on Pushkin's magnum opus and often described as "an encyclopedia of Russian life," the Bolshoi's staging of the canonic opera had not been "updated" since 1944. Set during the early Soviet period, Tcherniakov's production transformed Tchaikovsky's sweet Tatiana and Lensky into psychologically troubled people living in a cruel society. Although the Soviet-era soprano Galina Vishnevskaya denounced the opera as "the desecration of a national relic," many ordinary audience members (obychnye zritel'ia) spent a good deal of energy unpacking the multivalent layers of Tcherniakov's adaptation and ruminating on the cumulative meanings of Eugene Onegin in Russian history. Some of these responses were posted in personal blogs and in discussion forums dedicated to music. By examining these "spectator responses" to Eugene Onegin, we can begin to see the complexity of national, social, and personal identities alive in Russia today even as they are being constructed.

Emily Erken is a PhD candidate in Musicology. Her dissertation is entitled "A Phenomenology of Canon: Eugene Onegin and Living Klassika in 21st Century Russia." She has published articles in Nineteenth Century Music and in Molodye Issledovateli Chekhova, a collection of essays in Russian. Emily has presented her work at the Conference on Interdisciplinary Musicology in Berlin, Germany; the Midwest Chapter of the Society for Ethnomusicology, the Midwest Slavic Conference, and at the Chekhov House Museum in Yalta, Ukraine. She teaches music literature courses at Capital University.
---
Musicology lectures are held Mondays 4:30-6 p.m. in the Music/Dance Library, Room 205, second floor of the 18th Avenue Library at 175 West 18th Ave., unless otherwise noted.

Upcoming Musicology Events