Monday, September 8, 2014 -

4:30pm

to

6:00pm
18th Ave. Library (Room 205), 175 W. 18th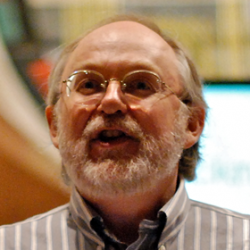 David Huron, Arts and Humanities Distinguished Professor of Music at Ohio State, presents "A Theory of the Musically Sublime." Dr. Huron holds a joint appointment at the Center for Cognitive and Brain Sciences. This lecture, the first of the autumn semester Musicology Lecture Series, is free and open to the public.

Most music listening is enjoyable. However, on occasion the experience of listening to music evokes strong emotions. Classic symptoms of strong emotions are evident in statements such as "The music sends shivers up and down my spine," "the music takes my breath away," "I'm choked up by the music" or "the music brings tears to my eyes." This presentation reviews the pertinent scientific literature including music-analytic, behavioral, ethological, physiological and brain studies, and offers a comprehensive theory of such experiences. The resulting theory amounts to an elaboration of a theory of the "sublime" first proposed by the 18th century British philosopher, Edmund Burke.

David Huron has produced over 100 research publications and delivered hundreds of invited lectures in dozens of countries - including 23 keynote conference addresses. His book, Sweet Anticipation: Music and the Psychology of Expectation (MIT Press) received the 2007 Wallace Berry Book Award. Among other distinctions, Dr. Huron has been the Ernest Bloch Visiting Lecturer at the University of California, Berkeley, the Donald Wort Lecturer at Cambridge University, and the Astor Lecturer at Oxford.
---
Musicology lectures are held Mondays 4:30-6 p.m. in the Music/Dance Library, Room 205, second floor of the 18th Avenue Library at 175 West 18th Ave., unless otherwise noted.

Upcoming Musicology Events