Monday, January 23, 2017 -

4:00pm

to

5:30pm
18th Ave. Library, 175 W. 18th, Room 205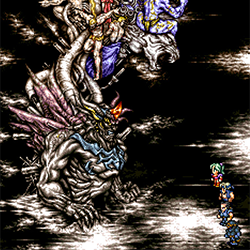 The spring semester Lectures in Musicology series opens with Dana Plank's presentation, Frightful Energy: Musical Madness in Final Fantasy VI.

"Hee hee! Nothing can beat the music of hundreds of voices screaming in unison!" Kefka exclaims, hearing music in genocide as he gleefully poisons the water supply to Doma castle. At first blush, the garishly dressed villain of Final Fantasy VI (Squaresoft, 1994) is pathetic and clownish, screaming at his underlings to clean sand from his boots in the middle of the desert. The second encounter shifts from silly to sinister as Kefka blithely kills dozens of men, women, and children to the mischievous and unsettling leitmotif representing his character. The use of music in this scene is a vital clue to the true terror of his unstable mind: the impish tune and plucky timbres serve as grim counterpoint to senseless killing, an immediately intelligible and potent symbol of insanity.

Video games often feature the compelling clash of good and evil—the trouble is, evil is often synonymous with generic, sadistic forms of "insanity" such as Kefka's. Rather than writing a complex, nuanced and empathetic representation, games often replicate harmful stereotypes casting mental illness itself as the villain. This paper explores an iconic musical manifestation of the "mad villain" trope. From the release of terrifying toxins to the sweeping final movements of "Dancing Mad," Kefka's themes employ militaristic rigidity, violent dissonance, Baroque counterpoint, operatic grandeur, and destabilizing turns in meter and instrumentation, allowing the player to hear the music in his genocide. Kefka's leitmotifs cast him as an object of fear, telegraphing his inner chaos and nihilism with frightful energy.

Dana M. Plank is a PhD candidate in historical musicology at The Ohio State University. She earned her BA in violin performance, music history and Japanese from Case Western Reserve University and the Cleveland Institute of Music in 2009, and her MM in violin performance from Cleveland State University in 2011. Her dissertation focuses on the aural representation of injury, disease and mental illness in 8- and 16-bit video game soundscapes. She published an article on Tetris and the musical representation of the Soviet Union in video games of the 1980s in January 2016 in the UK media studies journal The Soundtrack, as well as a chapter on Mario Paint Composer, participatory culture, and YouTube in Music Video Games: Performance, Politics and Play edited by Michael Austin (July 2016, Bloomsbury). Her research interests include the sacred music of Carlo Gesualdo, minimalist and post-minimalist opera, ludomusicology, disability studies, and music and identity.
---

Lectures in Musicology is co-sponsored by The Ohio State University Libraries.
Lectures are held Mondays at 4 p.m. in the 18th Avenue Library, 175 W. 18th Ave. (Music/Dance Library, second floor, room 205), unless otherwise noted. These events are free and open to the public.
Campus visitors, please use either the Tuttle Park Place Garage or the Ohio Union South Garage. All other garages in the vicinity of the 18th Ave. Library are closed to visitors before 4 p.m.