Monday, October 3, 2016 - 4:00pm
18th Ave. Library, 175 W. 18th, Room 205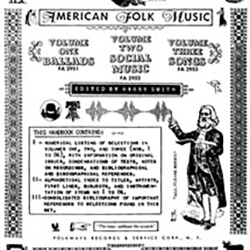 Some Issues with Reissues: The Case of the Harry Smith Anthology of American Folk Music. Presented by Dan Blim, Denison University.
In 1952, Folkways Records released an Anthology of American Folk Music, assembled by avant-garde artist Harry Smith from his enormous collection of recordings from the 1920s and 1930s. Forty-five years later, the Smithsonian reissued the landmark recording on CD. Drawing on Smith's comments about the album and on archival records at the Smithsonian that detail their process of reissuing it, Blim considers how these twin reissues direct our attention to the act of reissuing as to which does not merely mechanically reproduce, but instead actively edits, revises, and constructs new meanings within the music.

Dan Blim is assistant professor of music at Denison University. He earned a PhD in musicology and a certificate in Screen Arts and Cultures from the University of Michigan, and his dissertation "Patchwork Nation: Collage, Music, and American Identity" received the Society for American Music's Housewright Dissertation Award. He has published essays on John Adams' On the Transmigration of Souls and Bernard Hermann's score to Vertigo, and has forthcoming essays on film and stage musical forms, and hip-hop songs that sample Barack Obama. Among his current projects are essays on the reception of the indie rock band Weezer, modulatory practices in Broadway songs, and a book project on country music in films from the 1970s. In his spare time, Dan is also an active teacher of folk dances and a prize-winning punner.
---

Lectures in Musicology is co-sponsored by The Ohio State University Libraries.
Lectures are held Mondays at 4 p.m. in the 18th Avenue Library, 175 W. 18th Ave. (Music/Dance Library, second floor, room 205), unless otherwise noted. These events are free and open to the public.
Campus visitors, please use the Tuttle Park Place Garage or the Ohio Union South Garage. All other garages in the vicinity of the 18th Ave. Library are closed to visitors before 4 p.m.