Monday, February 29, 2016 -

4:00pm

to

5:30pm
18th Ave. Library, 175 W. 18th, Room 205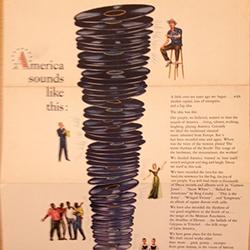 The Sounds of Consensus: American Pop Music in the Cold War Years. Charles McGovern, American Studies and History, College of William and Mary. Co-sponsored by the Program in Popular Culture Studies.
In the years after World War II, the Cold War shaped every aspect of U.S. culture, politics and everyday life. Those same years witnessed the remaking of American popular music, styles, listeners and industries. This presentation makes the case that American pop between 1945 and the mid '60s was a Cold War enterprise, sounding nationalism and bringing into sound the liberal consensus that was the uneasy political and social regime of the times. We will look at and listen to the nationalism, pluralism and fears that characterized the cold war present in the music business and in sound. The mid-century golden age of U.S. music in the high-fi era was a Cold War project, dependent on an isolated and economically dominant American music industry, and upon expansionist crossover musical styles that collapsed borders among markets, listeners and music makers.
Charles McGovern is Associate Professor and Director of American Studies at William and Mary. He is the author of Sold American: Consumption and Citizenship 1890-1945, along with numerous works on popular culture. As a Smithsonian curator, he curated and produced exhibitions, radio programs and collections on American popular music. He is at work on a book titled Body and Soul: Citizenship, Race and Popular Music in the U.S., 1930-1970.
---

Lectures in Musicology is co-sponsored by The Ohio State University Libraries.
Lectures are held Mondays at 4 p.m. in the 18th Avenue Library, 175 W. 18th Ave. (Music/Dance Library, second floor, room 205), unless otherwise noted. These events are free and open to the public.
Campus visitors, please use either the Lane Ave. Garage or the Ohio Union South Garage. All other garages in the vicinity of the 18th Ave. Library are closed to visitors before 4 p.m.