Monday, January 12, 2015 -

4:30pm

to

6:00pm
18th Ave. Library (Room 205), 175 W. 18th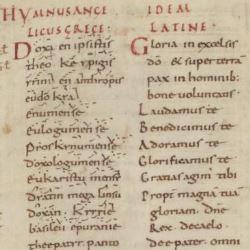 Charles M. Atkinson, University Distinguished Professor, and Arts and Humanities Distinguished Professor of Music at Ohio State, presents "On the Current State of Research on the Missa graeca and the Melodic Tradition of the Doxa in ipsistis Theo in the West." This lecture, the first of the spring semester Musicology Lecture Series, is free and open to the public.

Doxa in ipsistis Theo, the Greek Gloria in excelsis (pictured), has been the focal point of scholarly studies for more than 100 years. Many scholars have treated the Doxa within the context of the so-called Missa graeca, a designation that seems to have been employed for the first time by A. H. J. Vincent in 1864 in an article on the "messe grecque" chanted at the abbey of St. Denis. An article by Michel Huglo, "La mélodie grecque du 'Gloria in excelsis" (1950), posited a single Byzantine melody for the Doxa, which he reconstructed with the help of two Western sources: Paris, BnF 1118 (10th century) and Laon, Bm 263 (12th or early 13th century).

The author's work with the manuscripts containing the chant reveals that there are actually three different melodic traditions for the Doxa—two for the chant by itself and one for the version that appears together with a parallel or interlinear Latin translation. This presentation will survey research on the Missa graeca as a background for a more detailed study of the melodic tradition of the Doxa in ipsistis Theo in the West. Examination of three melodic versions of the Doxa can allow us to make comparisons between the Eastern and Western versions of the chant, and finally to ascertain whether it is indeed of Byzantine origin.

Charles M. Atkinson is a musicologist specializing in the music and music theory of the Middle Ages and Renaissance. His teaching interests also encompass Viennese Classicism, American jazz, and the music of the twentieth century. A former DAAD, NEH, and Alexander von Humboldt Fellow, Atkinson has received numerous scholarly awards, including the Alfred Einstein and Otto Kinkeldey Awards of the American Musicological Society, the Elliot Prize of the Medieval Academy of America, and The Ohio State University Distinguished Scholar and Distinguished Lecturer Awards. He served as president of the American Musicological Society, 2007-2008. Atkinson received his BFA from the University of New Mexico (1963), MM from The University of Michigan (1965), and PhD from the University of North Carolina (1975). He also studied at the Juilliard School and at the University of Erlangen-Nuremberg, Germany, as a DAAD Fellow.
---
Musicology lectures are held Mondays 4:30-6 p.m. in the Music/Dance Library, Room 205, second floor of the 18th Avenue Library at 175 West 18th Ave., unless otherwise noted.

Upcoming Musicology Events