Monday, April 9, 2018 -

4:00pm

to

5:30pm
18th Ave. Library, 175 W. 18th, Room 205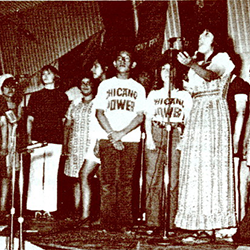 Austin McCabe Juhnke, musicology, presents "Singing Mennonite from the City: Performance, Politics and Ethnicity."
American Mennonites have often thought of themselves as "in the world but not of it." Nonetheless, across the twentieth century they became increasingly integrated into the dominant patterns of American life, including participation in the American evangelical missionary movement. Mennonite city missions like Chicago's Hispanic Lawndale Church (pictured) attracted people of color to the broader Mennonite Church for the first time. At the same time, white American Mennonites were formulating new ideas about their identity, history and musical practices. By 1969, the release of The Mennonite Hymnal had positioned congregational singing as a "traditionally Mennonite" practice—one that was understood to connect Mennonites to their central-European Anabaptist heritage.

Music in Mennonite city missions took shape differently. By 1971, a choir from the Lawndale Mennonite Church had gained notoriety through their performances in rural (white) Mennonite congregations. Their performance program included a heterogeneous mix of music that ranged from contemporary popular songs to classical choral works. The stated goal of their tours was "to take the concerns of the city to the rural areas." When they were invited to perform at the national Mennonite Board of Missions and Charities conference in 1971, however, they were presented as "minority" performers, and their music was framed to represent a marginal ethnic perspective. Through oral history and archival research, this presentation explores the Lawndale Choir's complex musical negotiations of belonging. The perspective from the Lawndale Choir reveals more fluid affinities with Mennonite identity and points toward more dynamic ways of understanding experiences of collectivity in musical performance.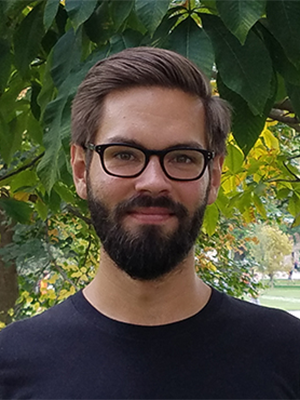 Austin McCabe Juhnke is a PhD candidate in Musicology at Ohio State. His research explores the intersections of musical aesthetics, religious experience, and negotiations of ethnic and racial identity. His current project explores the ways Mennonite musical performances in the late 1960s and early 1970s foregrounded the frictions between standard narratives about Mennonite identity and the experiences of those at the ethnoracial margins of the church. His research has been supported by grants from the Mennonite Historical Society and from the College of Arts and Sciences at Ohio State. He has presented his work at conferences in ethnomusicology and historical musicology; his paper "Whiteness, Aesthetics and Mennonite Identity in The Mennonite Hymnal" will be presented at the 2018 Society for American Music conference.
---

Lectures in Musicology is co-sponsored by The Ohio State University Libraries.
Lectures are held Mondays at 4 p.m. in the 18th Avenue Library, 175 W. 18th Ave. (Music/Dance Library, second floor, room 205). These events are free and open to the public.
Campus visitors, please use either the Tuttle Park Place Garage or the Ohio Union South Garage. All other garages in the vicinity of the 18th Ave. Library are closed to visitors before 4 p.m.