Monday, February 8, 2016 -

4:00pm

to

5:30pm
18th Ave. Library, 175 W. 18th, Room 205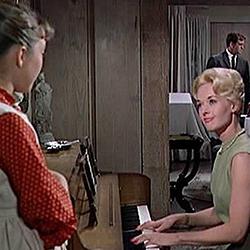 Annie Listens to Tristan While Melanie Plays Debussy, or: Two Women Pursue Love, Eschew Hysteria, and Go Musicking in Hitchcock's The Birds. Presented by Professor Arved Ashby, The Ohio State University.
Alfred Hitchcock's The Birds (1963) centers on women: the movie's violence becomes Hitchcock's ruse for confronting us with his own Victorian-era conceptions of female sexuality. Specifically, most of his female characters enact hysteria — a 19th-century diagnosis where excitability was symptomatic of a uterine disorder, which was itself a euphemism for sexual repression. But two of Hitchcock's characters, Annie (Suzanne Pleshette) and Melanie (Tippi Hedren), are non-hysterics — sexually liberated women who push the envelope of gender proprieties, and whom we encounter at different points of satisfaction with protagonist Mitch (Rod Taylor). Annie and Melanie also happen to be the movie's only musically inclined people, which is just as important for their enactments of character and gender. In this presentation, Ashby will consider Annie's and Melanie's different musicalities as they relate to their sexuality, desires, and final degradation. He will also trace the psychosexual import of the Debussy and Wagner works that Annie and Melanie involve themselves with. While Annie's taste for Tristan und Isolde marks her as a suffering romantic and foreshadows the tragic Liebestod she will suffer protecting Mitch's sister from the birds, Debussy's Arabesque No. 1 becomes a post-Freudian essay in drawing-room music — Melanie performs it at the piano on the eve of the film's feathery apocalypse, as a pretext for domesticity and a plea for entry into Mitch's inner family circle.
---

Lectures in Musicology is co-sponsored by The Ohio State University Libraries.
Lectures are held Mondays at 4 p.m. in the 18th Avenue Library, 175 W. 18th Ave. (Music/Dance Library, second floor, room 205), unless otherwise noted. These events are free and open to the public.
Campus visitors, please use either the Lane Ave. Garage or the Ohio Union South Garage. All other garages in the vicinity of the 18th Ave. Library are closed to visitors before 4 p.m.