Friday, October 24, 2014 -

1:00pm

to

2:30pm
The Humanities Institute, 104 E. 15th Ave.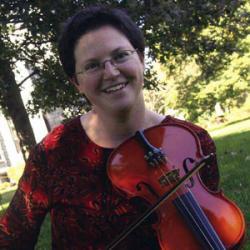 Guest lecturer Amanda Weidman presents "Playback Singing, Performance, and the Performativity of Voice in South India." Co-sponsored by the Music and Sound Working Group of the Humanities Institute (in the George Wells Knight House at 104 E. 15th Ave.), the Department of Comparative Studies, and the South Asian Studies Task Force.
This lecture is free and open to the public.
Amanda Weidman, Department of Anthropology, Bryn Mawr College, will present "The Unconventional Career of L.R. Eswari: Playback Singing and Female Public Performance of South India," a talk that will examine the unconventional career of South Indian playback singer L.R. Eswari (b. 1939) in relation to the ways female playback singers negotiated their role and were constructed in the public imagination as public performers and women in the film field in the 1950s-70s. Playback, a system in which a singer's voice is first recorded in the studio and later "played back" to be lip-synched by the actors and actresses during the shooting of the film's visual sequences, emerged as such in the late 1940s. A typology of female voices emerged in the later 1950s and 1960s as this system became established in the South Indian film industries. It was articulated in discourse about playback voices as well as in the division of labor these voices were made to perform in films, a division based on voices that were heard as clean and licit and voices that were considered "husky" or immodest. Within this context, L.R. Eswari came to be branded as a singer of sexualized "cabaret" and "western" songs in the mid-1960s primarily in Tamil and Telugu films. She subsequently retreated from playback singing and made a name for herself in the devotional music industry in the 1970s and 80s. Since 2010, defying the usual career path for older playback singers, she has re-emerged from retirement to sing several "item" songs for Tamil films, in which her voice is matched with the sexually charged performance of the actress on screen. This talk examines the complex mix of attributes and associations her voice and embodied performance have presented to the public over the course of her career.

Amanda Weidman is associate professor and chair of the Department of Anthropology at Bryn Mawr College. Trained at the University of Washington and Columbia University, she is a cultural anthropologist with an area specialization in South Asia. Her previous research in South India examined the creation of South Indian classical music as a high cultural genre in the context of late colonialism, Indian nationalism, and regional politics in South India. This project combined ethnographic research, examination of archival sources, and her own study and performance of South Indian classical music. Her current research focuses on the people who create the music for South Indian popular cinema: playback singers, music directors, and studio musicians. She examines the social organization of the studios and discourses about voice and sound that emerge in recording sessions, relating these to broader politics and cultural movements.
---