Monday, November 23, 2015 -

4:00pm

to

5:30pm
18th Ave. Library, 175 W. 18th, Room 205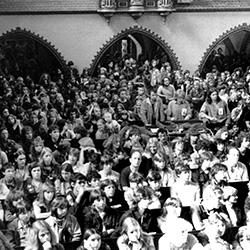 Alison Furlong, The Ohio State University School of Music, presents "Blues in the Church: Performing Pluralism in East Berlin."

In 1979, youth pastor Rainer Eppelmann of East Berlin's Samariterkirche, together with musician Gunther "Holly" Holwas and other members of the parish, hosted the first so-called "Blues-Mass." This particular performance genre combined American blues music (as well as other musical styles) with religious content and sketches illustrating social issues in the German Democratic Republic. Between 1979 and 1986, twenty Blues Masses took place in East Berlin churches, attracting as many as 4,000 people to multiple masses in a single day. The protection of the church, and the religious character of the Blues-Masses, allowed them to function as a site of pluralism and political discourse within the broader culture of East Berlin during the early 1980s. The restrictions placed on Blues Masses by the church, however, along with their success in nurturing a fledgeling public sphere, eventually proved their undoing: groups of individuals who met and found common interests at these events soon branched out to pursue more overt engagement in social and political issues. Within these semi-public church spaces, Blues Masses became a genre unto themselves. To maintain their protected status, Blues Masses carefully balanced the sacred and the secular, couching political and social commentary in terms of religious belief, and creating a social space that existed apart from everyday life, using the sort of framing devices more commonly associated with the performance of ritual. The conventions of this genre can help reshape our understanding of both public political action and private faith in socialist East Germany.

Alison Furlong is a graduate of The Ohio State University with a PhD in music and graduate specializations in film studies and folklore. Her dissertation, "Resistance Rooms: Sound and Sociability in the East German Church," was supported by grants from the German Academic Exchange Service (DAAD) and the American Musicological Society. An article based on that research is forthcoming in a special issue of Colloquia Germanica dealing with the intersection of German studies and sound studies.
Photo credit: Bundesbeauftragte für die Unterlagen des Staatssicherheitsdienstes der ehemaligen Deutschen Demokratischen Republik (BStU or "Stasi Records Agency").
---
Lectures in Musicology is co-sponsored by The Ohio State University Libraries.
Lectures are held Mondays at 4 p.m. in the 18th Avenue Library, 175 W. 18th Ave. (Music/Dance Library, second floor, room 205), unless otherwise noted. These events are free and open to the public.
Campus visitors, please use either the Lane Ave. Garage or the Ohio Union South Garage. All other garages in the vicinity of the 18th Ave. Library are closed to visitors before 4 p.m.