Monday, March 2, 2015 -

4:30pm

to

6:00pm
18th Ave. Library (Room 205), 175 W. 18th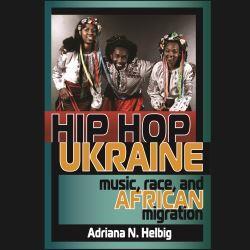 Adriana Helbig is associate professor of music and an affiliated faculty member in Cultural Studies, Women's Studies, Global Studies, and the Center for Russian and East European Studies at the University of Pittsburgh. She will discuss "Hip-Hop Ukraine: Music, Race, and African Migration." Co-sponsored by the Music and Sound Working Group, Humanities Institute. This lecture is free and open to the public.
This talk draws on urban music and dance competitions, hip hop parties, and recording studio culture to explore unique sites of interracial encounters among African students, African immigrants, and local populations in eastern Ukraine. It combines ethnographic research with music, media, and policy analysis to examine how localized forms of hip hop create social and political spaces where an interracial youth culture can speak to issues of human rights and racial equality. Mapping the complex trajectories of musical influence—African, Soviet, American—Adriana Helbig shows how hip-hop has become a site of social protest in post-socialist society and a vehicle for social change.

Adriana Helbig, a member of the graduate faculty at the University of Pittsburgh, teaches courses on global hip-hop; world music; music, gender, and sexuality; music and technology; and cultural policy. She is also founder and director of the Carpathian Music Ensemble, a student performance group that specializes in the music of Eastern Europe, including klezmer and Romani/Gypsy music. She is the recipient of numerous grants and research fellowships from the National Endowment for the Humanities, American Councils for International Education, IREX, and Fulbright. She has held a research fellowship at the Kennan Institute for Advanced Russian Studies at the Woodrow Wilson International Center for Scholars in Washington, DC, and was an inaugural research fellow at the Humanities Center at the University of Pittsburgh. Her articles on Romani (Gypsy) music, post-socialist cultural policy, music and piracy, music, race, and migration, and global hip-hop have appeared in edited collections and journals such as The Yearbook for Traditional Music, Current Musicology, and Popular Music. She is the co-author, with Oksana Buranbaeva and Vanja Mladineo, of The Culture and Customs of Ukraine (Greenwood Press, 2009). Her book Hip-Hop Revolution: Music, Race, and African Migration in Ukraine was published by Indiana University Press in May 2014. Hip-Hop from the East of Europe, a volume co-edited with sociologist Milosz Miszczynski, is forthcoming from Indiana University Press.
---
Musicology lectures are held Mondays 4:30-6 p.m. in the Music/Dance Library, Room 205, second floor of the 18th Avenue Library at 175 West 18th Ave., unless otherwise noted.

Upcoming Musicology Events