Saturday, April 14, 2018 - 8:00pm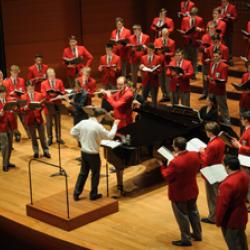 University Chorus performs Gwyneth Walker's "How Can I Keep From Singing?", Brunner's Cantate Domino and Mozart's Regina Coeli.
Men's Glee Club will present "In taberna quando sumus" from Carl Orff's Carmina Burana; two settings of Hebrew prayers by Robert Seeley and Brant Adams; an arrangement of "Nearer My God to Thee" by James L. Stevens, and Victimae paschali laudes arranged by Michael Engelhardt.
Robert J. Ward, conductor; Casey L. Cook, associate conductor and accompanist; Tyler W. Robertson, graduate teaching associate (Regina Coeli, "Nearer My God"); Alexander M. Port, graduate conducting student ("How Can I Keep from Singing?"); Onsby C. Rose, doctoral conducting associate (Two Hebrew Prayers); Zachary DelMonte, conductor of The Statesmen.
This event is free and open to the public. No ticket required.
Live stream broadcast begins 8 p.m.