Friday, March 23, 2018 - 6:30pm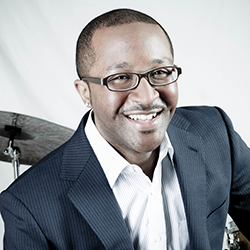 Quincy Davis can be heard on the albums of Tom Harrell, Gretchen Parlato, Bobby Watson, Benny Golson, Walt Weiskopf, Stefon Harris, Benny Green, Aaron Diehl, Frank Wess, and many more. After seven years at the University of Manitoba, Davis is assistant professor of jazz drum set at the University of North Texas.
Davis will be featured at tonight's 8 p.m. concert with the Ohio Jaztet, comprised of OSU faculty Anthony Stanco, trumpet; Kevin Turner, guitar; Andy Woodson, bass, Jim Rupp, drums and Jazz Studies area head Shawn Wallace, saxophone.
The master class and the concert are free and open to the public.