Thursday, November 8, 2018 - 8:00pm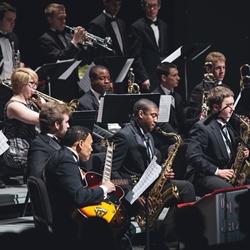 The Jazz Studies combos perform a varied program of standards through contemporary selections by Michael Brecker, Honrtveth/Jazzist, Con Conrad and J. Russel Robinson, Duke Ellington and Barney Bigard/arr. Ulrich, Fletcher Henderson/arr. Sandke, Kenny Garrett, Thelonious Monk/arr. Anthony Stanco, Horace Silver, Freddie Hubbard, Chucho Valdez/arr. Devon Buchanan, and Lou Marini/arr. Anthony Stanco.
Combos and directors participating are the Jazz Fusion Combo (Mike Smith), New Orleans/Traditional Swing Combo (Jim Masters), Hard Bop Combo (Kevin Turner), Latin Jazz Combo (Kris Keith) and the Art Blakey Combo (Anthony Stanco).
This event is free and open to the public. No ticket required.
Livestream broadcast begins at 8 p.m.