Sunday, January 14, 2018 - 1:30pm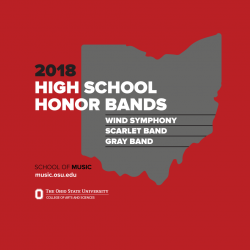 High school musicians from Ohio and beyond, selected based on band directors' nominations, attend a weekend of high-level music making which culminates in a finale performance.
The Ohio State University Wind Symphony opens the weekend with a concert on Friday, Jan. 12 at 7:30 p.m. with Russel C. Mikkelson conducting. The three high school honor bands present their finale programs on Sunday afternoon:
1:30 p.m.—Honors Scarlet Symphonic Band
2:15 p.m.—Honors Gray Symphonic Band
3 p.m.—Honors Wind Symphony
All concerts are free and open to the public.
Live stream broadcast begins at 1:30 p.m.