Sunday, January 20, 2019 - 1:30pm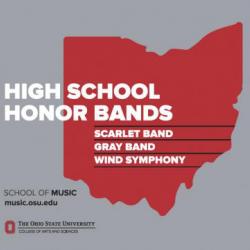 High school musicians from Ohio and beyond, selected based on band directors' nominations, attend a weekend of high-level music making which culminates in a finale performance.
The three high school honor bands present their finale programs on Sunday afternoon:
1:30 p.m.—Honors Scarlet Symphonic Band
2:15 p.m.—Honors Gray Symphonic Band
3 p.m.—Honors Wind Symphony
Scarlet Symphonic Band program will be selected from the following: A Longford Legend, Robert Sheldon; Abide With Me, William Henry Monk/arr. Stig Gustafson; Danse Saltarelle, David Gorham; Into the Silent Land, Steven Danyew; March and Procession of Bacchus, Leo Delibes/arr. Eric Osterling; Sine Nomine, Ralph Vaughn Williams/arr. Alfred Reed. Scott A. Jones, conductor.

Gray Symphonic Band program: Metamorphosis, Andrew Boysen, Jr.; The Seal Lullaby, Eric Whitacre; American Big Top, Brian Balmages; Three Ayres from Gloucester, Hugh M. Stuart; Danse Carnivale, Randall Standridge. Christopher Hoch, conductor.

Honors Wind Symphony program: Florentiner March, Julius Fucik/arr. M. L. Lake/ed. Frederick Fennell; Grace Before Sleep, Susan LaBarr/arr. J. Eric Wilson; Sketches on a Tudor Psalm, Fisher Tull; Carmen Ohio/Across the Field, arr. Roger Cichy. Russel C. Mikkelson, conductor.

All concerts are free and open to the public. Livestream broadcast begins at 1:30.
Driving and Parking Directions