Sunday, April 22, 2018 - 8:00pm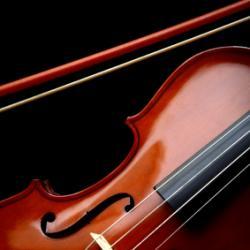 The ensembles present their spring concert. First-Year Undergraduate String Orchestra performs Ode to the Plains and Wild Horses Running, Robert Kerr; Four Country Dances, W. A. Mozart/arr. Aaron Yackley; Adagio and Scherzo from Idyll for Strings, Leoš Janáček; Blindsighted, Peter Terry. Aaron Yackley, conductor.
The Ohio State University Community Orchestra presents Chorale Prelude Wachet auf, ruft uns die Stimme, J. S. Bach/trans. Eugene Ormandy; "Bacchanale" from Samson and Delilah, Camille Saint-Saëns/arr. Merle J. Isaac; Prayer of St. Gregory (Ted Clark, trumpet soloist), Alan Hovhaness/arr. Robert Longfield; English Folk Song Suite, Ralph Vaughan Williams/orch. Gordon Jacob; "Carmen Ohio," Fred Cornell/arr. Richard Heine/Blair Williams. Elizabeth Petersen, conductor.
This event is free and open to the public. No ticket required.