Monday, September 10, 2018 - 8:00pm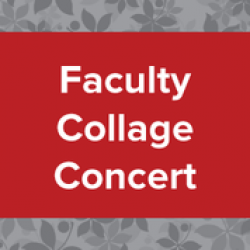 Enjoy this annual concert showcasing chamber and solo performances by faculty artists in a unique collage setting.
Performers include James Akins, tuba; Ryan Behan, piano; Andrew Blosser, voice; Ted Clark, trumpet; Barry Green, double bass; John Gruber, trombone; Bruce Henniss, horn; Katherine Borst Jones, flute; Tim Leasure, trumpet; Tong Li, violin; Katherine Rohrer, voice; Jim Rupp, drums; Karen Pierson, bassoon; Susan Powell, percussion; Anthony Stanco, jazz trumpet; Kia-Hui Tan, violin; Kevin Turner, guitar; Michael Rene Torres, saxophone; Shawn Wallace, jazz saxophone; Andy Woodson, jazz bass and Jiung Yoon, piano.

This event is free and open to the public. No ticket required.