Tuesday, February 21, 2017 - 8:00pm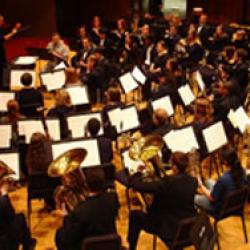 The Star-Spangled Banner: A Love Song to Our Country, John Stafford Smith/arr. Jack Stamp; Flashing Winds, Jan Van der Roost; City Trees, Michael Markowski; A Longford Legend, Robert Sheldon; The Fairest of the Fair, John Philip Sousa; Fantasy on a Theme by Sousa, Andrew Boysen, Jr.; Galop from the musical comedy Moscow, Cheremushky, Dmitri Shostakovich/arr. Donald Hunsberger.
Phillip Day, conductor; Christopher D. Hoch, guest conductor (Longford Legend); Kristin Lin, guest conductor (Fantasy).
This event is free and open to the public. Live streaming
---
Collegiate Winds will present a joint concert with University Band, Tuesday, April 18 at 8 p.m.