Sunday, September 30, 2018 - 3:00pm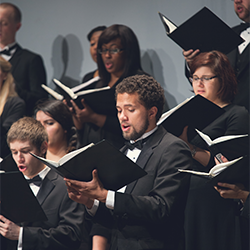 The Choral Collage is an opportunity to hear all of Ohio State's choirs (University Chorus, Women's Glee Club, Symphonic Choir, Men's Glee Club) in one sitting! This "early in the season" performance gives the choirs an opportunity to share what they will be working on over the course of the semester. A fun comparison? The Collage Concert is to the choral program as Spring Game is to the football program.
This concert is free and open to the public. No ticket required.
Live stream broadcast begins at 3 p.m.