Thursday, March 21, 2019 - 7:00pm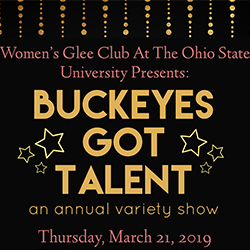 Women's Glee Club presents the annual variety show, Buckeyes Got Talent. The show will feature Ohio State students showing off their talents through song, dance, magic and more.
Tickets at the door are $8 for general public, $5 with student ID. The Women's Glee Club will accept cash, venmo, check or card. Questions? Email
WGC President.