Wind Symphony
---
The Wind Symphony, under the direction of Professor Russel C. Mikkelson, is Ohio State's premier wind ensemble and is widely recognized as one of the country's elite wind bands. Devoted to the preparation and performance of the finest traditional and contemporary music for band, it performs at least six concerts per year with the opportunity to work with well-known guest conductors and artists. The group is well-respected for its recordings and performances at high profile professional conferences such as the American Bandmasters Association, Concert Band Directors National Association, Ohio Music Education Assocation among others. Its membership includes the most accomplished brass, woodwind and percussion musicians in the School of Music and is open to all university students, by
audition
.
---
Symphonic Band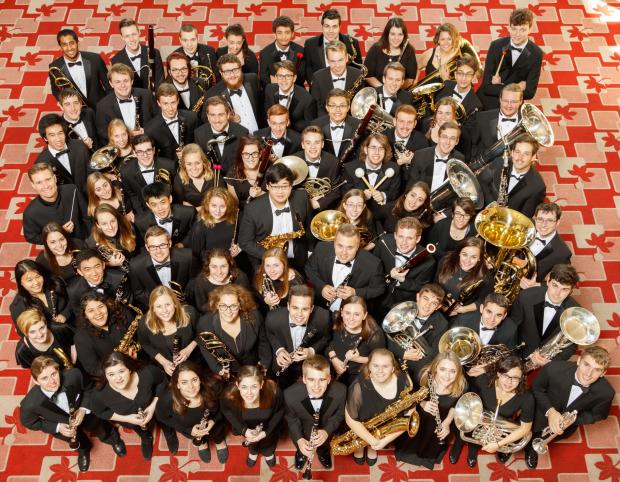 Under the direction of Associate Director of Bands Dr. Scott A. Jones, the Ohio State Symphonic Band has earned an enviable reputation through performances for the College Band Directors National Association, the Ohio Music Education Association, the Midwest International Band and Orchestra Clinic, the Ohio State Contemporary Music Festival, on tour, and through its recordings.

The Symphonic Band is comprised of approximately 65 instrumentalists, most of whom are undergraduate and graduate music majors. A registered Student Organization at Ohio State, the ensemble is led by a Student Board elected from the membership of the ensemble. Membership is open by audition to all Ohio State University students.
Visit Symphonic Band on the Bands website.
---
Collegiate Winds
The Ohio State University Collegiate Winds is an ensemble of approximately 55 musicians, both music majors and non-majors, who join together to perform one concert per semester. This ensemble is dedicated to broadening the artistic level and interest of its members while performing music of artistic and historical significance. Membership is open to all Ohio State students by
audition
.
---
University Band
This band is designed for the non-music major who enjoys creating music with limited time commitment or performance demands. The enthusiasm of the band enables its members to achieve excellent musical results while taking a brief break from their major disciplines. The band performs four concerts per year. A formal audition is not required for membership in this ensemble.
---
Auditions
All students of the university are welcome to audition for the Wind Symphony, Symphonic Band and Collegiate Winds.
• No audition is required for University Band membership. At the first class meeting, a placement audition will be held to seat the band.
Auditions for the upcoming school year typically take place the first week of autumn classes. Prior to the audition dates, digital sign-up and instructions with musical excerpts will be available at the Auditions section of the Bands website on or before July 15.