A Brief History of The Ohio State University Concert Bands
The Legacy Begins: Eugene Weigel (1929-1939)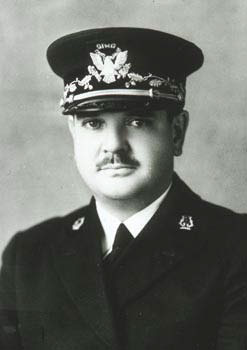 Eugene Weigel (1937)
Prior to the official creation of the Department of Music in 1925, instrumental ensembles at Ohio State maintained grass-roots, utilitarian identities on campus as early as 1879. Instrumental groups served the university through military functions and various campus activities, the needs of which varied from year to year. Most ensembles were student-led and makeshift in nature, lacking an appointed professional director. After years of planning, determination, and sacrifice, the Music Department began the 1929-1930 school year with the formation of the University Concert Band, directed by recent Ohio State graduate and professor of Instrumental Music Eugene Weigel. A successful educator, performer, and World War I veteran, the 34-year-old Cleveland native was charged with the reorganization of all instrumental ensembles, including the Symphony Orchestra, Concert Band, and Marching Band. Professor Weigel conducted all three ensembles from 1929-1939, at which time he succeeded Royal D. Hughes as Music Department chair. Historical records indicate that for formal performances, the band was usually addressed as the Symphonic Band. On programs with lighter literature or outdoor programs, the band was frequently called the Concert Band.


Symphonic Band (1930)
The Whitcomb Years (1939-1952)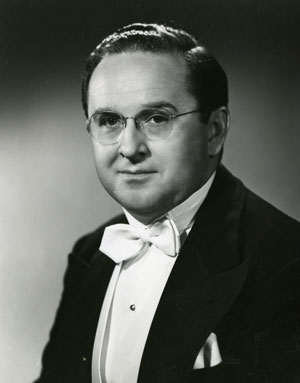 Manley Whitcomb
Manley R. Whitcomb came to Ohio State University in 1937 as Eugene Weigel's assistant conductor, and was named conductor of both the Concert Band and the Marching Band in 1940, following a successful first year as acting director. He made his mark on the band program with new ideas, different approaches, and a teaching style in stark contrast to that of his predecessor. Professor Whitcomb was assisted by Clare Grundman, who taught the woodwind studio, woodwind methods courses, and served as assistant director of Concert and Marching Bands. Grundman would later become a well-known composer and arranger. When Grundman resigned from Ohio State, Donald E. McGinnis was hired to fill the vacancy of woodwind instructor and assistant director of bands in the summer of 1941. McGinnis assisted Whitcomb with the Marching and Symphonic Bands, taught the applied woodwind studio, in addition to woodwind methods courses. Whitcomb also placed McGinnis in the leadership role of principal clarinet and concertmaster, where he ran sectionals and rehearsals. During the war years, with Whitcomb and McGinnis on leave, faculty members John C. Worley and Justin Gray served as interim conductors (1941-1946) of the Concert Band until Whitcomb's return in 1946. In 1952, when Whitcomb announced his plans to leave Ohio State to do graduate work at Columbia University, Professor Weigel decided to split the work assignments: Donald McGinnis would conduct the Concert Band, and Jack O. Evans, hired by Whitcomb as an additional assistant in 1947, would direct the Marching Band. Whitcomb urged McGinnis and Evans not to allow the Marching and Concert Bands to be split up, stating that Weigel had suggested a split of the two ensembles when he was hired in 1939, but Whitcomb had refused to accept the position under such circumstances. However, at the end of the 1952-1953 academic year, Whitcomb announced his resignation from Ohio State to become director of bands at Florida State University. With Whitcomb's departure, and over his stated objection, the Concert Band and Marching remained split, as Weigel had advocated. Donald E. McGinnis, after one year as acting director of the Concert Band, was named the permanent director. Similarly, Jack Evans was appointed the permanent director of the Marching Band. Weigel's controversial decision would have far reaching and unintended consequences for the Ohio State band program over the next sixty years.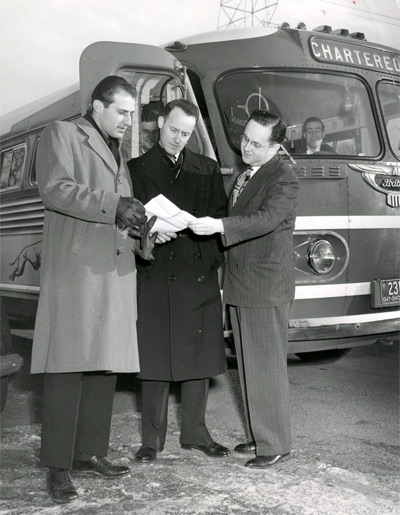 L-R: Unknown, Donald McGinnis, Manley Whitcomb. Spring Tour, 1947
The McGinnis Years (1952-1979)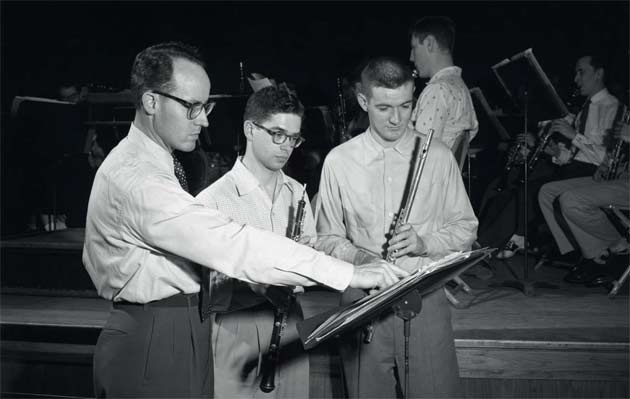 Donald McGinnis instructs Concert Band students, 1955.
Donald E. McGinnis came to Ohio State University in 1941 as instructor of woodwinds and assistant director to Manley Whitcomb. In May 1942 McGinnis enlisted in the US Navy and was principal clarinet and featured soloist in a superior musical unit stationed at the USN Preflight School in Iowa City and assistant conductor of the chamber orchestra. Later he received a commission as Ensign and was appointed communications officer on the USS Lucidor (AF-45) with duty in the South Pacific. He was honorably discharged as Lt. JG in December 1945. After nearly four years in the US Navy, McGinnis returned to Ohio State in 1946, served as acting director of the Concert Band in 1952-53, and was appointed to the position of director of the Concert Band commencing with the 1953-54 academic year. All told, Dr. McGinnis led the Concert Band for twenty-seven years, longer than anyone before or since. It was during these years that the Concert Band, as it was now known exclusively, firmly established itself as a musical ensemble of unparalleled excellence. Dr. McGinnis established an enviable reputation across the country through performances at major meetings of the American Bandmasters Association, the College Band Directors National Association, the Music Educators National Conference (now NAfME), and the Ohio Music Education Association. In addition, Concert Band appearances at Carnegie Hall (1972) and at Lincoln Center (1968) were critically acclaimed. From 1964 through 1979, the band recorded the music from the Ohio required and selected contest lists. Each year this was completed before Thanksgiving, and the recordings were invaluable to Ohio high school bands as they prepared for contest. In addition, the players in the band were given outstanding preparation for their future careers in conducting and teaching. This collection of more than forty recordings was distributed throughout Ohio and many other states, also in Japan, Sweden, Norway, and England. Highly praised recordings were available from the MENC Philadelphia concert (1964), Philharmonic Hall, Lincoln Center (1968), Carnegie Hall (1972), and MENC Atlantic City (1976). The Atlantic City concert "In the Grand Tradition of John Philip Sousa" was guided and narrated by Paul Bierley, noted historian and Sousa biographer. Other recordings were 30th Anniversary Concert, On the Lighter Side, March Masterpieces (with invaluable help from Bierley) and All-Persichetti (with the composer as guest conductor). Assistant/associate conductors under Dr. McGinnis included Forrest Stoll (1952-1959), Charles Spohn (1959-1964), Richard Suddendorf (1964-1970), and Robert LeBlanc (1971-1979). Upon his retirement in 1979, Dr. McGinnis served as director of the School of Music until 1981. A plan is currently underway to name newly renovated School of Music rehearsal spaces for Dr. McGinnis, in recognition and gratitude for his passionate dedication to the Concert Band, the School of Music, and his students.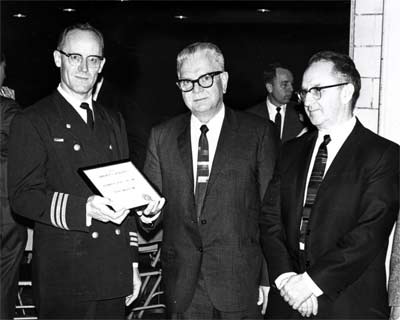 Donald McGinnis, Eugene Weigel, and Manley Whitcomb, 1966 Concert Band Reunion.
The Buckeye Bands


Activities Band 1953
After officially becoming the Marching Band director in 1953, Jack Evans continued to conduct the Activities Band, assisted by William Kerns. Appearing in formal and Twilight concerts, this group was geared for non-music majors, just as it was when it was formed in 1947, as well as majoring underclassmen. It was renamed the Buckeye Band in the fall of 1957, the same year that George Wilson replaced Kerns as assistant director. By the time William Baker took the place of Wilson in the fall of 1963, the Band had grown to 118 members. The following academic year, it became necessary to divide the growing group into the Buckeye Scarlet Band, directed by Jack Evans, and the Buckeye Gray Band, directed by William Baker and assisted by Douglas MacQueen. By 1966, the Buckeye Bands, which drew membership from students who auditioned during "Welcome Week" or at the start of each quarter, were credited for performing two formal concerts and two Twilight concerts, in addition to playing for Varsity basketball games. By the late 1960s, Evans and the Scarlet Band rehearsed on Mondays and Wednesdays, and the Gray Band, now under the director of Robert LeBlanc, rehearsed on Tuesdays and Thursdays, both in Hughes Hall 109, from four o'clock to five-thirty. By the 1970s, the Buckeye Bands had a combined membership of approximately 220 members and played several concerts on campus, in addition to providing music for other campus events. Throughout the decade, several instrumental music faculty, instructors, and graduate students directed, assisted, or even filled in for Buckeye Band concerts. Regular conductors, directors, and assistant or associate directors of the Activities, Buckeye Scarlet, and Buckeye Gray Bands from 1953 to 1979 were Jack Evans (1953-70), William Kearns (1953-56), George Wilson (1956-63), Jeff Cook (1962-63), William Baker (1963-68, 1975-77, 1978-79), Douglas MacQueen (1964-66), Robert LeBlanc (1966-75), Ian Polster (1966-67), David Meeker (1970-75), Paul Droste (1970-73), Charles Temple (1971-74), James Jones (1973-79), Jan Roshong (1973-75), Robert Cochran (1975-79), James Westbrook (1975-76), and Jon Woods (1975-79).
The Kirchhoff Years (1979-1993)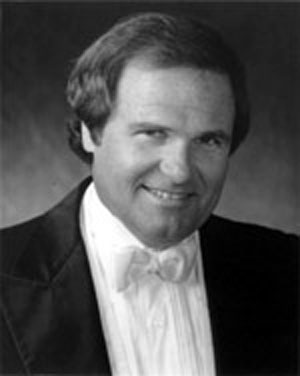 Craig Kirchhoff
When the retirement of Dr. McGinnis was announced, the vacancy was advertised as Director of Bands, the title that was revived after the 1953 split of the Concert and Marching Bands and given to Dr. McGinnis shortly before he retired. In the fall of 1979, the School of Music welcomed Wisconsin native, Craig J. Kirchhoff, as Ohio State's fourth director of Bands. Kirchhoff received a bachelor of science in Music Education from the University of Wisconsin-Milwaukee and a master of music from the University of Wisconsin–Madison. Prior to his appointment at Ohio State, he served in a similar capacity as director of Bands at Washington State University, before which he was the associate director of Bands at the University of Wisconsin-Milwaukee. Under Professor Kirchhoff's leadership, the OSU High School Honor Band was initiated, bringing the state's most talented high school students to campus. Moreover, the Concert Band continued to flourish, maintaining the high performance standards and national profile established by his predecessor. Some of Kirchhoff's proposed changes to the band program received opposition from Concert Band alumni. For similar reasons that Weigel chose the name "Symphonic Band," rather than "Concert Band," in 1929, Kirchhoff wanted the name of his large-group ensemble to connote the performance of serious works of literature, not the light, entertainment-oriented works often associated with the name "concert band." He proposed changing the name of the top group to "Symphonic Band," and the name of the second group to "Concert Band." Former band members and individuals who were previously involved with the program saw this as a demotion in former title for Concert Band alumni, as well as an unwanted change to a long-standing university tradition. Diplomatically choosing his battles, Kirchhoff maintained the name "Concert Band" for the large top ensemble, a title that would remain with the group until 1999. The Scarlet and Gray Buckeye Bands were renamed "Symphonic Band" and "University Band," respectively, in 1979. Kirchhoff also founded the Wind Ensemble, the central concept of which was to place one player on each part, was organized from some of the finest instrumentalists in the School of Music and consisted of approximately forty graduate and undergraduate members, performing wind literature from the Classical period through the twentieth century. The Wind Ensemble frequently appeared in concerts with the Concert Band, with some students serving in both groups. The Concert Band performed a mix of traditional and contemporary music, rehearsing five days a week and performing at least six concerts a year. In addition to joint concerts with the Wind Ensemble, the Concert Band also frequently collaborated with the Symphonic Band, the roster of which included a large percentage of music majors. Faculty who conducted the Symphonic Band on a regular basis from 1979 to 1993 were Robert Cochran (1979-1983), Jon Woods (1979-1981), Howard Meeker (1983-1984), Harvey Benstein (1984-1988), Craig Kirchhoff (1988-1989), Robert LeBlanc (1988-1989), and Richard Blatti (1989-1993). Directors of the University Band were all graduate assistants. With the hiring of Harvey Benstein in 1984, a full-time position was created with the title "Associate Director of Bands," a position he held until 1989. Richard L. Blatti served in this role from 1989-2010. During Kirchhoff's first two years at Ohio State, the bands had very active seasons. Special appearances were given by guest conductor, Karel Husa, in 1980, as well as Verne Reynolds, in 1981, for the premiere of his Concerto for Band. In 1981, the Symphonic Band traveled to Watkins Memorial High School in Pataskala, while the Wind Ensemble appeared at the OMEA Conference in Cleveland and the CBDNA Conference at the University of Michigan. Thirteen years after the Concert Band appeared in a Carnegie Hall debut with McGinnis, the current Concert Band gave a repeat performance of two previously programmed selections: Dahl's Sinfonietta for Band, and Grainger's Lincolnshire Posy, along with selections by Strauss, Holst, Schwantner, and Bernstein.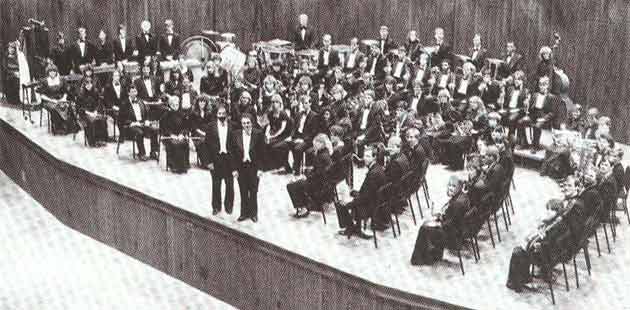 Harvey Benstein (L), Craig Kirchhoff (R), and the Concert Band, before the Carnegie Tour, 1985.
In 1986, the Concert Band began the task of preparing for a momentous occasion in the group's fifty-seven year history - an eighteen-day tour to Japan. Five years in the making, this trip would be the first international tour for an ensemble in the band program. Kirchhoff received the invitation to go as part of a cultural exchange that included a four-day artistic residency at the Yamaha Music Camp, which was attended by conductors from all over Japan. In addition to this residency, the band performed in Tokyo, Hamamatsu, Shimizu, Kofu, and Moka, collaborating with host school bands at some destinations. The students would also stay with host families in each location, providing a once-in-a-lifetime opportunity to be immersed in Japanese culture.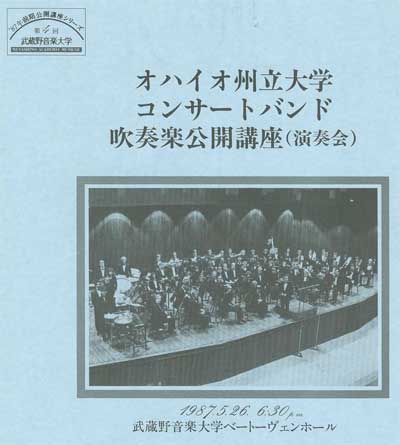 Musashino Academy of Music, May 26, 1987
Interim Conductors (1993-1995) Richard Blatti and Christopher Weait
Staffing changes in 1993 would result in the reorganization of directors in the band program for the next two years. Director of Bands since 1979, Kirchhoff left Ohio State to accept the position of director of University Bands at the University of Minnesota. Richard L. Blatti, associate director of Bands (1989-2010) took over as interim director of Bands, conducting the Concert Band, and graduate assistant Patrick Casey assumed direction of the Symphonic Band during Blatti's reassignment. Christopher Weait, School of Music faculty member, bassoon professor, and occasional Wind Ensemble and Sinfonietta coach during Kirchhoff's tenure, directed the small wind group, now referred to as the Chamber Winds. From 1993 to 1994, the Symphonic Band welcomed Northwestern University Director of Bands and guest conductor, John Paynter. Keith Brion conducted the Concert Band in a program featuring the compositions of Alan Hovhaness, along with other contemporary works. The following week, the Concert Band recorded the works of Hovhaness for a compact disc released on the Delos label titled Star Dawn. During the band program's sixty-fifth year at Ohio State, Professor Weait became interim director of the Concert Band, as well as the conductor and coach of the Sinfonietta and Wind Ensemble, the names of which seemed interchangeable based on the instrumentation of each group. Blatti returned to the Symphonic Band, and both interim directors assisted with the two large bands. In addition to a Sixty-Fifth Anniversary celebration concert and an appearance at a CBDNA Convention, the highlight of the Concert Band season was a spring break tour to Ontario, where Weait had been a member of the Toronto Symphony for seventeen years.
The Lewis Years (1995-1998)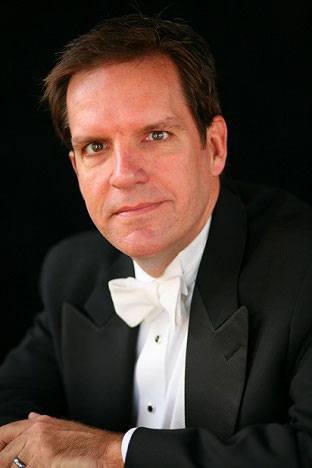 Gary Lewis
In the fall of 1995, Gary Lewis became the fifth director of Bands at Ohio State. Lewis came to Ohio State from the University of Michigan, where he was assistant professor of Conducting, co-conducted the Symphony Band, Wind Ensemble, and Contemporary Directions Ensemble, and served as director of the Michigan Marching Band. Highlights of his three-year tenure included a performance at the 1998 OMEA in Columbus, and a gala concert in Cleveland's Severance Hall in collaboration with the Men's Glee Club. Professor Lewis left in 1998 to become the director of Orchestras at Texas Tech University in Lubbock, and is currently in a similar role at the University of Colorado.
The Mikkelson Years (1998-Present)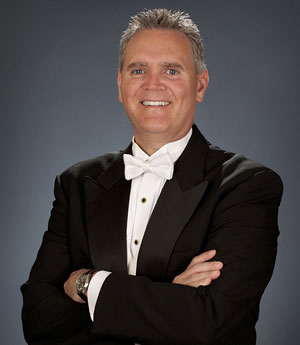 Russel C. Mikkelson
In 1998 Russel C. Mikkelson became the sixth director of Bands at The Ohio State University. Following three conductor changes in five years, the Wisconsin native provided much needed stability to the OSU Concert Bands. Dr. Mikkelson came to Ohio State following successful appointments as director of Bands at the State University of New York at Fredonia (1993-1998), and seven years of teaching in the public schools of Wisconsin (1983-1990). Advocating a balanced approach to concert programming, Mikkelson's concerts regularly include works from the core band repertoire, transcriptions, world premieres and recently composed works, as well as music from the chamber winds repertoire. In addition to his performance duties, Dr. Mikkelson mentors students through the graduate program in Wind Conducting, including the DMA degree program, the commencement of which coincided with his arrival at Ohio State.
What's in a Name?
Similar to Dr. McGinnis' change of the band's moniker from "Symphonic Band" to "Concert Band," the first major change instituted by Professor Mikkelson was the retirement of the name "Concert Band," changing it to "Wind Symphony." With the "blessing" of Dr. McGinnis, the timing was right. Rather than use the name Concert Band for one of the "lower bands," Mikkelson decided to retire the moniker, out of respect to the faculty and alumni who cherished their experiences using that title. A "Farewell Concert" took place on November 30, 1999 marking the final concert of the OSU Concert Band. Alumni, friends, and former conductors took part.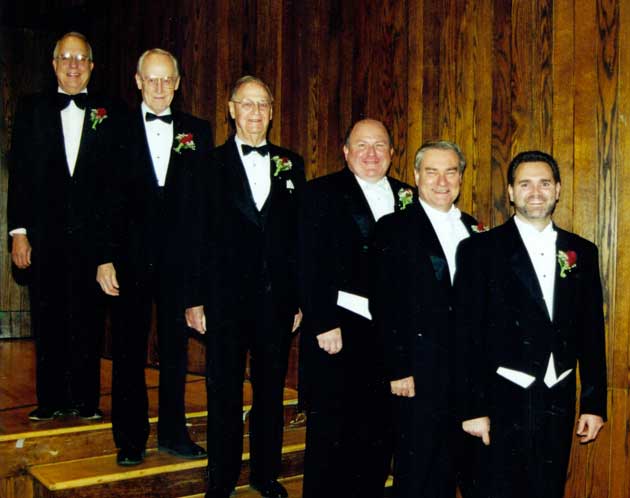 L-R: Jon Woods, Donald McGinnis, Jack Evans, Richard Blatti, Christopher Weait, Russel Mikkelson Concert Band "Farewell Concert" (1999).
The OSU Wind Symphony: 2000-Present
In 2000, the OSU Wind Symphony embarked on an ambitious recording project, which has produced five commercially available CDs to date. The first two were distributed by Mark Records, and the next three through Naxos, the world's largest classical music label. Recordings in this critically acclaimed series include Rest (Naxos 2012), Southern Harmony (Naxos 2009), Winds of Nagual (Naxos, 2007), Jubilare! (Mark Records, 2003) and Sounds, Shapes and Symbols (Mark Records, 2000). In a 2010 review of the Southern Harmony recording, Fanfare magazine proclaims, "The Ohio State musicians play their collective hearts out and conductor Mikkelson shapes the music with a loving hand, wringing every last drop of emotion out of the music. If this does not give you goose-bumps, nothing will."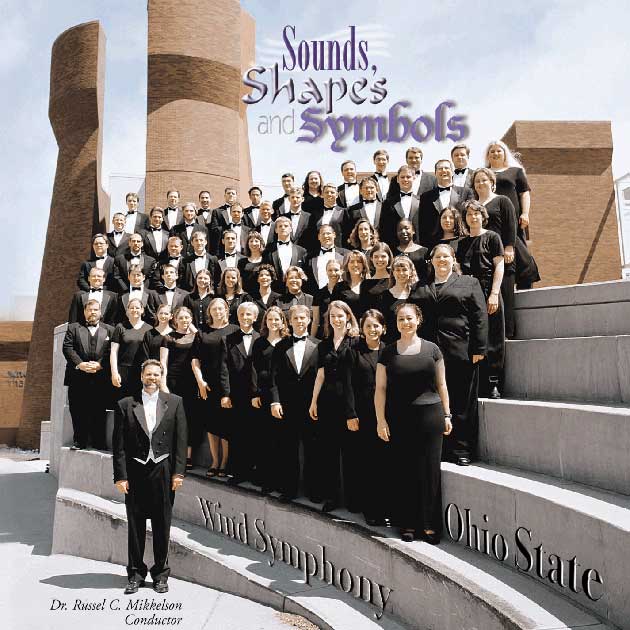 Wind Symphony CD Cover: Sounds, Shapes and Symbols, Mark Records (2000).
Conventions and Composers
In 2003, the Wind Symphony performed at the National Conference of the CBDNA at the University of Minnesota in Minneapolis. In addition to the CBDNA invitation, the Wind Symphony has performed at the OMEA conference six times (2001, 2004, 2006, 2008, 2011 and 2013) in Columbus, Cleveland, and Cincinnati. A staunch advocate for new music, Dr. Mikkelson has commissioned over thirty new works, and instituted a composer-in-residence program affording Ohio State band students the opportunity to interact with important composers. Between that program and the OSU Contemporary Music Festival, the Wind Symphony has received high praise from numerous composers including Krzysztof Penderecki, John Corigliano, Joseph Schwantner, Jennifer Higdon, Gunther Schuller, Lukas Foss, Augusta Read Thomas, Frank Ticheli, Michael Daugherty, Carter Pann, John Mackey, Steven Bryant, Jonathan Newman, and John Stevens, among others.
Band Program Expands
In 2006 the OSU Concert Bands expanded to include a new ensemble: the OSU Collegiate Winds. The Collegiate Winds, the third band of four, was formed in order to accommodate the growing number of students in the School of Music, and to afford greater conducting opportunities for graduate conducting students. This ensemble normally comprises approximately 70% music majors, and 30% non-music majors. To date, the Collegiate Winds has been conducted by the DMA conducting graduate assistant.
McGinnis 90th Birthday Celebration
In the fall of 2007, the OSU Concert Bands and the School of Music hosted a concert in recognition and celebration of Dr. Donald McGinnis' 90th birthday. The event was held on his actual birthday, October 21, 2007, and was played to a full house in Weigel Auditorium. Dr. Paul Droste served as the Master of Ceremonies, and there were additional remarks by Professor Craig Kirchhoff, Dr. Mikkelson, and School of Music Director Dr. Mellasenah Morris. The OSU Wind Symphony performed, opening with the premiere performance of In Exuberant Celebration, composed for this occasion by OSU alumnus Roger Cichy, in honor of Dr. McGinnis. The concert continued with the fourth movement of the McGinnis Symphony for Band, guest clarinet soloist and former McGinnis student Professor Howard Klug, "Meditation" from Thaïs featuring McGinnis' former flute students, Etude Caprice featuring McGinnis' former clarinet students, and America, the Beautiful. Dr. McGinnis returned to the podium to conduct the combined Wind Symphony and Concert Band alumni musicians on Grainger's Ye Banks and Brae's O' Bonnie Doon, and Buckeye Ballads.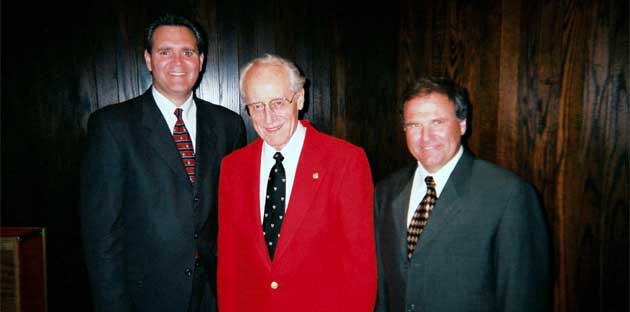 L-R: Russel Mikkelson, Donald McGinnis, Craig Kirchhoff, at the 2002 Concert Band Reunion.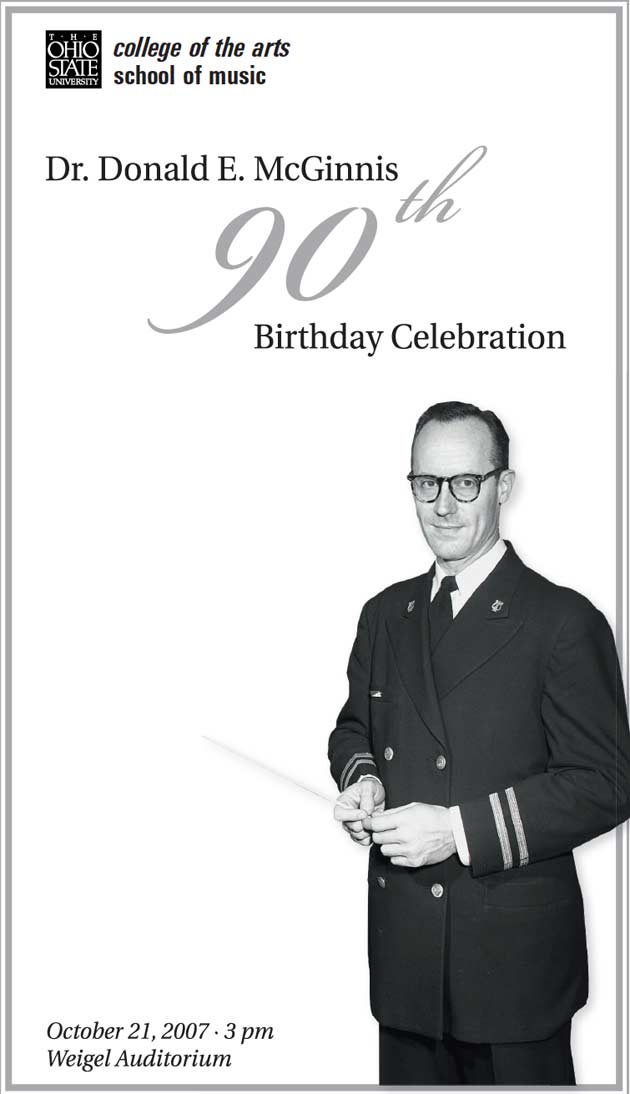 Program Cover for the 2007 Birthday Celebration.
Wind Symphony at Severance Hall 2013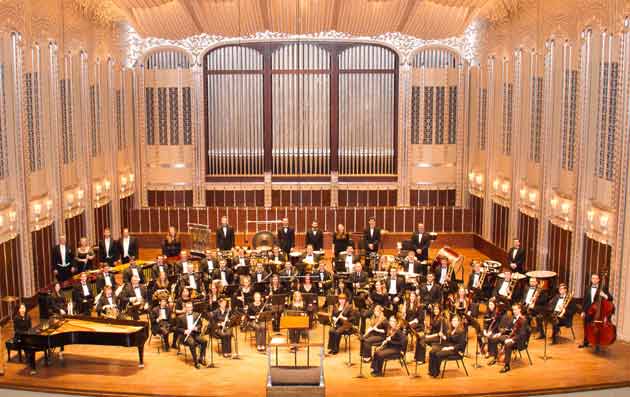 Wind Symphony at Severance Hall, 2013.
In February 2013, the OSU Wind Symphony returned to Cleveland's Severance Hall, some sixteen years since Gary Lewis and the Concert Band has performed there in 1997. With guest conductors Scott A. Jones and Jonathan Waters, and clarinet soloist Dr. Caroline Hartig, Professor Mikkelson led a program titled "Made in America," with music by Bernstein, Copland, Ticheli, Gershwin, and Fillmore.
Associate Directors of Bands
Associate directors of Bands during Mikkelson's tenure include Professor Richard L. Blatti (1989-2010), Dr. Milton Allen (interim, 2010-2012), and Dr. Scott A. Jones (2012-present). Each of these gentlemen served as conductor of the Symphonic Band and taught courses in undergraduate conducting.
The Current Band Faculty
The current Ohio State Band faculty includes Dr. Mikkelson, Dr. Scott A. Jones, Dr. Christopher D. Hoch and Phillip A. Day. Interestingly, all but Mikkelson hold at least one degree from Ohio State. Christopher Hoch (associate director of bands and director of Marching and Athletic Bands) and Phillip Day (assistant director of bands and associate director of Marching and Athletic Bands) each received their master's degree in wind conducting with Dr. Mikkelson as their major professor. These four men enjoy a kindred working relationship, strongly focused on the needs of their students, and striving to do what is best for the band program in its entirety.
---
Acknowledgements
Special thanks are due to Jennifer Marie Blair, whose master's thesis served as the basis for much of the historical information contained in this document. Completed at The Ohio State University in 2010, her thesis is titled "The History and Development of The Ohio State University Concert Wind Band Program from 1929-1995."
Also, thanks are due to University Archives here at Ohio State University, for the use of historic photos.
---
Top of page