Marching Band

The Ohio State University Marching Band meets autumn semester only and is open to all students by audition/tryout. This group is a nationally-recognized and award-winning band noted for excellence in both playing and marching. The Marching Band performs for all home football games, plays concerts, travels to several away games and participates in bowl games. Tryouts consist of both a playing and a marching audition.
Frequently Asked Questions about Marching and Athletic Bands [pdf]
See Tryout Information for current instructions and detailed schedule. Registration for tryouts opens June 1.

Visit Marching and Athletic Bands.
Athletic Bands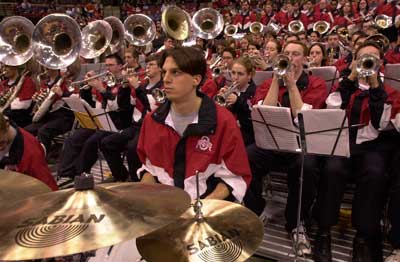 These bands offer students the opportunity to perform both in concert and at athletic events, including men's and women's basketball, hockey, wrestling and the spring football game. A large quantity of pop music is performed. Instrumentation includes brass, woodwinds and percussion; placement is determined by audition. Selected band members participate in trips, including post-season tournament play. These bands are composed of students representing almost every college in the university.
Questions?
Email osumb@osu.edu or call 614-292-2598.
---
[pdf]—Some links on this page are to Adobe .pdf files requiring the use of Adobe Reader. If you need this information in a more accessible format, please contact us.