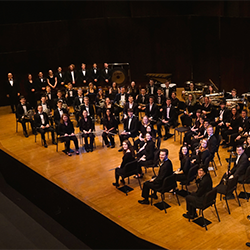 The Ohio State University Collegiate Winds is an ensemble of approximately 60 musicians, both music majors and non-majors, who join together to perform four concerts per year, in addition to an appearance on the annual Musical Celebration concert.
This ensemble is dedicated to broadening the artistic level and interest of its members while performing music of artistic and historical significance. Students in this ensemble have the opportunity to interact with important composers for this medium. Recent guests include Steven Bryant, John Mackey, Carter Pann and Michael Daugherty. Dr. David Hedgecoth, conductor.
Membership is open to all Ohio State University students. Auditions are required.
Collegiate Winds – David Hedgecoth, conductor; hedgecoth.1@osu.edu
Undergraduate: Music 2204.03 | Graduate: Music 7204.03
Classes meet Tuesday 7–9 p.m. in Steinbrenner Band Center