The Music Minor
The music minor requires only 15 credit hours in music. This can be an excellent way for students in other majors to pursue their passion for music and continue their involvement from high school during their undergraduate experience. Music minors may choose to participate in ensembles, take music history and theory courses, and study music technology. No audition is required to participate in our minor programs.
Be advised that the Music Minor requires at least one course in Music Theory.
Music Minor Curriculum Sheet [pdf]
For questions related to the minor in music, please contact Arts Advising at 614-292-6961.
---
The Music, Media and Enterprise Minor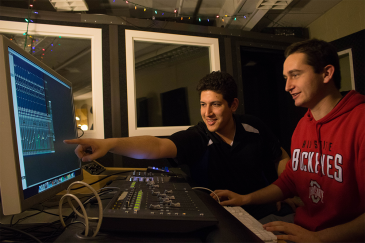 The Music, Media and Enterprise Minor is open to students in any major program and draws students from all across campus: marketing, finance, logistics, strategic communications, economics, electrical engineering, journalism and more.

The minor offers a full complement of courses, including entrepreneurship, music production, media economics, music cultures of the world, media ethics, media entertainment and communications law. The core classes give everyone a solid foundation in music business and entrepreneurship and the electives allow everyone to customize the program—along with their major studies—to achieve their professional ambitions.

Students examine music creation, distribution and the rapidly-evolving technologies that make them possible. They graduate with an understanding of the role and value of music in the marketplace and society and how to critically analyze and create opportunities in music production and promotion. Program graduates work for record labels, production and marketing companies, concert producers and venues, and as independent entrepreneurs.

For more about the MME minor, see At the Nexus of Music, Media and Enterprise.
MME Curriculum
Music, Media and Enterprise Minor [pdf]
Contact
---
[pdf]—Some links on this page are to Adobe .pdf files requiring Adobe Reader. If you need them in a more accessible format, contact us.