Women's Glee Club Recordings
Music Down In My Soul
Dr. Richard L. Schnipke, conductor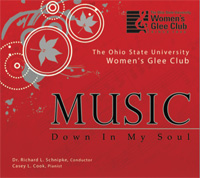 Casey L. Cook, piano
"Cantate Domino"; Ruth Watson Henderson; Lorenz Corporation; Ryan Columbare, trumpet
"Sancta Maria"; Albert Alain; Schola Cantorum; Casey Cook, organ
"Laetatus Sum"; Niccola Porpora; Marks Music; Jilian McGreen, soloist; Katelyn Han and Mae Anderson, violins; Doug Craven, viola; Elizabeth Beck, cello; Mike Brosius, bass; Casey Cook, harpsichord
"O Frondens Virga"; Drew Collins; Walton Music
"Early in the Spring"; Raph Vaughan Williams; Oxford; Cynthia Braswell conducting
"Hexenlied"; Felix Mendelssohn, arr. Paul Neal; Walton Music
"Lux Aeterna"; Michelle Roueché; Walton Music; Sarah Ferrell, soloist
"Leshana Haba'ah BiYerushalayim"; arr. Shawn Kirchner; Shawn Kirchner Publishing; Kristen Kurivial & Hannah Sterman, soloists
"Psalm 8" (Adonai, Adonenu); Dan Forrest; Hal Leonard; Alicia Hui, violin; Johnny Mendoza, djembe
"I Thank You God"; Gwyneth Walker; ECS Publishing
"Heaven Unfolding"; Andrea Ramsey; Boosey & Hawkes; Andrea Ramsey conducting; Mark Rudoff, cello, with the Bexley High School Women's Chorale
"In the Lavender Stillness of Dawn"; Jocelyn Hagen; JH Publishing; Alicia Hui violin; Mark Rudoff, cello
"Moon Goddess"; Jocelyn Hagen; JH Publishing; Casey Cook & Megan Rainey, piano
"I Am Not Yours"; David Childs; Santa Barbara
"Heaven Bound Train"; arr. Stephen Hatfield; Colla Voce; Skye Johnson, soloist
"Hold Me, Rock Me"; Brian Tate; Pavane Publishing
"Gaudete!", Micahel Engelhardt; Walton Music; Carrie Maxwell & Veronica Hudak, soloists; David Counterman, Ben Haimann, Zach Koors & Johnny Mendoza, percussion
"Music Down in My Soul", arr. Moses Hogan; Hal Leonard
"Our Best Ohio"; arr. Kelly Winner; unpublished
"Carmen Ohio"; Fred Cornell, arr. Tim Sarsany; unpublished
"Buckeye Medley"; arr. Mariana Blair; unpublished
CD Order Form
Top of page
---
A Jubilant Song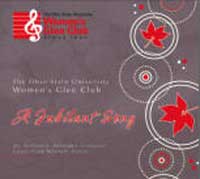 Dr. Richard L. Schnipke, conductor
Casey L. Cook, piano
"A Jubilant Song," James McCray; Santa Barbara Publishing;
Andrew Theirauf, vibraphone; Megan Rainey, tambourine
"There Is Sweet Music," Daniel Gawthrop; Alfred Publishing Co.
Psalm 23 ("The Lord is My Shepherd"), Franz Schubert; Oxford University Press Music (audio clip)
Confitemini Domino, Alessandro Costantini; Choral Public Domain Library; Kelly Winner conducting
"Walk With Me in the Sun," Kenneth Foltz, arr. John Tatgenhorst; Plymouth Music Co.
"Caroline Million" from The Choral New Yorker; Irving Fine; Boosey & Hawkes; Sarah Hughes and Melody Gay, soloists
"Stars" from Faywood School Songs;"* Larysa Kuzmenko; Boosey & Hawkes; Ryan Behan, piano
3 Night Songs, Joshua Shank; Santa Barbara Music Publishing; Ryan Behan, piano:
Evening
Moon Song
Water
Psalm 100,* René Clausen; Mark Foster Music Company; Casey Cook Westfall and Michael Goede, piano.
Laudate Dominum, Z. Randall Stroope; Walton Music
"Tundra," Ola Gjeilo; Walton Music; Rachel Herman, soloist
Fülemüle, György Orbán, Hinshaw Music
"Love's Philosophy," David N. Childs; Santa Barbara Music
"And Miriam Sang" (Shiru L'Adonai); Zebulon M. Highben; unpublished;
Andrew Thierauf, Juan Mendoza, Megan Rainey, percussion
Cielito Lindo, arr. Barbara Harlow; Santa Barbara Music
"The Battle of Jericho," arr. Brian Trant; Oxford University Press
"Our Best Ohio," W. A. Dougherty, Jr., arr. Kelly Winner, unpublished; Kelly Winner conducting
(audio clip)
"Carmen Ohio," Fred Cornell, arr. Tim Sarsany; unpublished (audio clip)
"Buckeye Medley," arr. Mariana Blair; unpublished (audio clip)
"May the Road Rise to Meet You," Ruth Watson Henderson; Hinshaw Music
A special thanks to Dr. Hilary Apfelstadt, conductor of the OSU Women's Glee Club from 2009, for contributing tracks 7-11 for this compilation CD.
CD Order Form
Top of page
---
here's to song: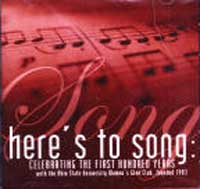 Hilary Apfelstadt, conductor
"Alleluia," William Boyce (audio clip)
"Sing on This Festive Day," Jacques Arcadelt (audio clip)
"Come, Ye Makers of Song," Ruth Watson Henderson
Dominus Deus (from Mass in G Major), Johann Sebastian Bach
"How Merrily We Live," Michael East (Este) (audio clip)
Psalm 100, Ruth Watson Henderson
"Rise Up, My Love," Eleanor Daley
Nigra sum, Pablo Casals
"The Snow," Edward Elgar
"Mornings Innocent," Gwyneth Walker
"Love is a Rain of Diamonds," Gwyneth Walker
"I Will Be Earth," Gwyneth Walker
"Fire, Fire My Heart," Thomas Morley (audio clip)
Hotaru koi ("Ho, Firefly"); Ro Agura, arr.
Aunu, aunu balti kajas; Imant Raminsh, arr.
"Song for the Mira," Allister MacGilivray
"I Got a Robe," Michael Neaum, arr.
"Didn't It Tain," Michael Neaum, arr.
"Here's to Song," Allister MacGilivray
CD Order Form
---
Top of page