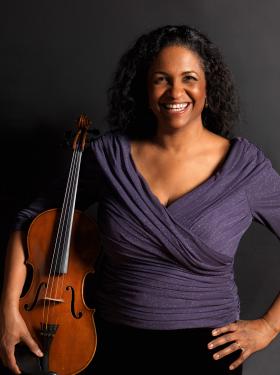 Friday-Monday, January 9-12, 2015
Program Overview
The Ohio State University School of Music will host its annual Viola Intensive January 9-12, 2015 with Dr. Juliet White-Smith and guest faculty. Hone your foundational skills on the instrument from posture and setup to scales, technique classes, performance anxiety classes, baroque dance and more on the "Artist Track," or get a head start on that upcoming college or summer festival audition with the "Audition Track."

This four-day residency program is for violists grades 9-12 and beyond. The "Artist Track" is designed for any violist looking to focus on their playing in an inspiring environment with supportive faculty. The "Audition Track" is designed for violists who are preparing for upcoming summer festival, college and post-collegiate auditions.
Program fee: $285 for all participants
---
Registration
Registration for the 2015 Viola Intensive is now closed.
After submitting an online registration, you will immediately receive a confirmation email with further information to help you complete the payment process. If you do not receive a confirmation email, one of three things has happened:
The email you entered was unable to receive our message
The confirmation email was sent to your SPAM box
The online registration was not received
If you do not receive a confirmation email within two hours of submitting an application, please contact Rachael Keplin for further instruction.
Once you've submitted registration, please complete the following steps:

1. Download, print, read, and sign the following forms:
a. Photo Release Form [pdf]
b. Parental Permission Form [pdf]
2. Mail these forms and check/money order payable to The Ohio State University to:
Viola Intensive
ATTN Outreach Registrar
110 Weigel Hall - 1866 College Road
Columbus, OH 43210
or email the forms to Rachael Keplin.
Payment must be received in our office by Friday, December 19, 2014.
---
Directions and Parking
Visit the School of Music - Directions and Parking
---
Contact
---
[pdf] - Some links on this page are to Adobe .pdf files requiring the use of Adobe Reader. If you need them in a more accessible format, please contact: white-smith.1@osu.edu.