Viola Intensive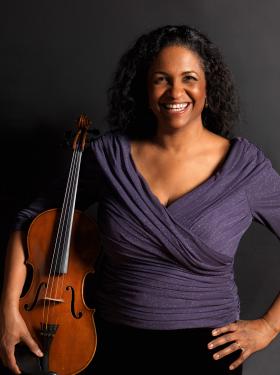 The Ohio State University School of Music will host its annual Viola Intensive January 3-6, 2014. Ohio State Viola Professor Dr. Juliet White-Smith will teach alongside Professors George Taylor (Eastman School of Music), Hillary Herndon (University of Tennessee-Knoxville) and Kathryn Dey (South Carolina Governor's School of the Arts and Humanities) in a "boot camp" style setting. Hone your foundational skills on the instrument from posture and setup to scales, technique classes, performance anxiety classes, baroque dance and more on the "Artist Track," or get a head-start on that upcoming college or summer festival audition with the "Audition Track." Participant fee is $285.

This four-day residency program is for violists grades 9-12 and beyond. The "Artist Track" is designed for any violist looking to focus on their playing in an inspiring environment with supportive faculty. The "Audition Track" is designed for violists who are preparing for upcoming summer festival, college and post-collegiate auditions.
---
Registration Information
Registration for January 2014 Viola Intensive closed December 13, 2013.
Viola Intensive Fee*
$285 - participant tuition
$85 - teacher observation fee
The Ohio State University accepts cash, check, or money order. Checks and money orders should be made payable to The Ohio State University with "Viola Intensive" printed on the memo line along with the participant's name. The University does not accept credit card orders at this time.

Upon completion of registration, Viola Intensive fee should be mailed to:
Viola Intensive
The Ohio State University School of Music
ATTN: Megan Morelock, Outreach Registrar
110 Weigel Hall
1866 N. College Rd.
Columbus, OH 43210
*Please note: meals and lodging are not included in either participation tuition or the teacher observation fee.
---
Accommodations
Viola Intensive participants are responsible for finding their own housing for the duration of the event. For suggested accommodations, see Hotels and Restaurants.
---
For guests of the School of Music
---
Contact
For registration questions not answered here, please contact the School of Music outreach registrar, Megan Morelock, at morelock.13@osu.edu or call 614 292-4280.
To contact the Viola Intensive director, Dr. Juliet White-Smith, email white-smith.1@osu.edu.
---
[pdf] indicates a .pdf file. If you need these files in a more accessible format, please contact us.