Ohio State Marching Band Summer Clinic
Sunday, July 20 – Monday, July 21, 2014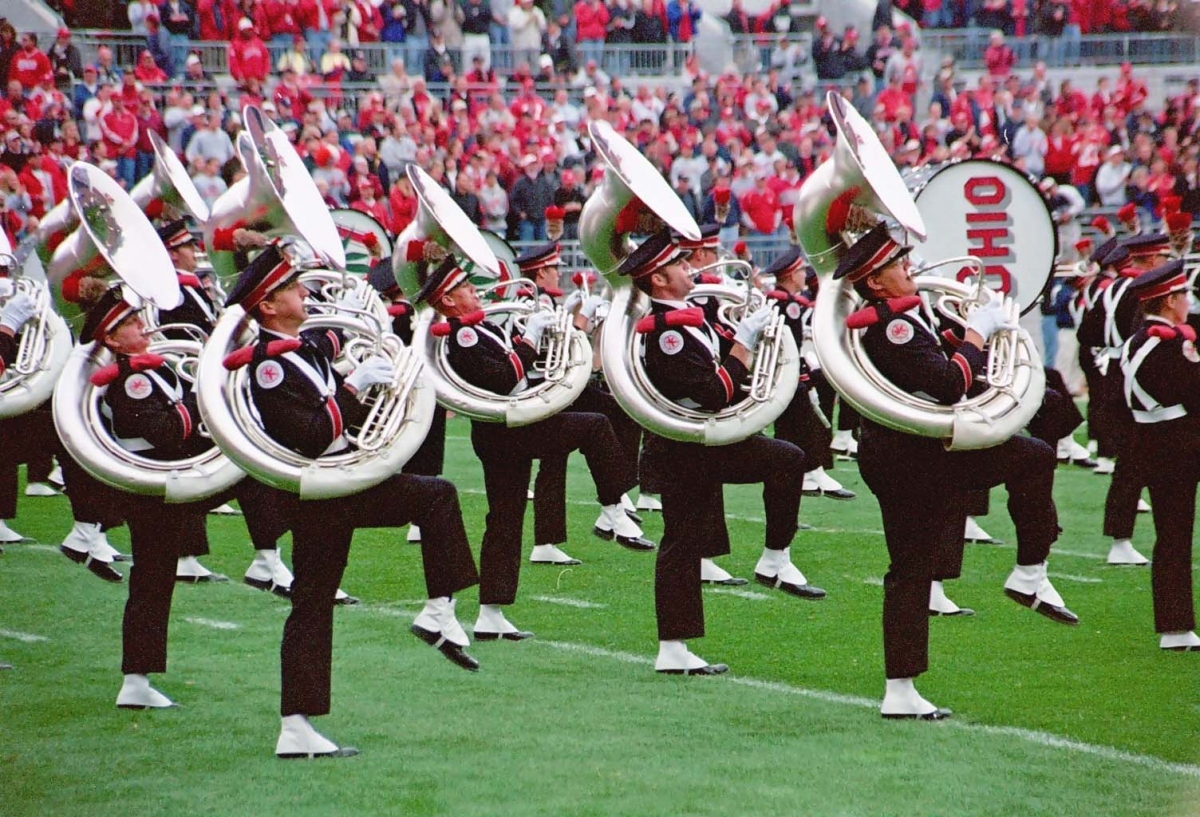 The Ohio State University Marching Band Summer Clinic is an opportunity for high school marching band students to improve their musicianship and marching skills. Under the direction of marching band staff, squad leaders, and qualified band upperclassmen, students will learn the music and marching fundamentals used by The Ohio State University Marching Band in a safe, positive, fun, and interactive environment. We especially encourage out-of-town students to join us to learn the skills and knowledge needed to try out for The Ohio State University Marching Band.
All activities will take place at the Steinbrenner Band Center in the Ohio Stadium, as well as on the marching band's practice field at the south end of the stadium.
Eligibility
Student must be entering grades 10-12 in the 2014-2015 school year, or be a 2014 high school graduate
Student must have completed at least one year of marching band
Student must play brass or percussion.
Because The Ohio State University Marching Band is an all-brass-and-percussion ensemble, and the focus of the clinic is on preparing students for tryouts, we will not be accepting woodwinds to this program.
Program Fee
$100 (includes tuition, t-shirt, and select meals;** does not include housing)
Instruments
Students should bring their own instruments, but some brass and percussion will be made available, if needed. Students who play sousaphone, mellophone, baritone, and percussion may need to check out an instrument.
Important Information **
Students will be provided certain meals including 2 dinners, 1 lunch (Monday), and daily snacks. Breakfasts and Sunday lunch are on your own. We recommend students bring a durable water bottle to all clinic activities.
Clinic Schedule
Sunday, July 20: 12 pm–9 pm
Monday, July 21: 9 am–9 pm
Performance Schedule
Monday, July 21 • Final Showcase Concert • 7 pm • Marching Band Practice Field • Free and open to the public
Marching Band Clinic Leadership
Ohio State Marching Band Director - Jonathan Waters
Ohio State Marching Band Associate Director - Christopher Hoch
Summer Clinic Coordinator - Tess Green
---
Registration Deadline – July 1, 2014
Online registration for The Ohio State Marching Band Summer Clinic is now closed. If you would still like to be considered to attend, contact the Steinbrenner Band Center at (614) 292-2598 or osumb@osu.edu to check availability.
Registration consists of three steps: completion of an online registration form, submitting payment (online or by mailing a check) and submission of three forms.
Step One: Begin the process by registering online.
After submitting an online registration, you will immediately receive a confirmation email with further information to help you complete the payment process. If you do not receive a confirmation email, one of three things has happened:
The email you entered was unable to receive our message
The confirmation email was sent to your SPAM box
The online registration was not received
If you do not receive a confirmation email within two hours of submitting an application, please contact the outreach registrar at musicoutreach@osu.edu for further instruction.
Step Two: Payment may be made online by credit card or a check may be sent in the mail
If you choose to pay online via credit card, click the link in your registration confirmation email to reach the School of Music's online store. After submitting payment, you will receive an email receipt within a few moments of submitting payment.
If you choose to pay with a check or money order, submit payment to the Marching Band Business and Operations Manager at the address below. You will receive confirmation by email within 7-10 business days.
The Ohio State University Marching Band
ATTN: Rick Shaffer, Business and Operations Manager
Weigel Hall 110
1866 College Rd
Columbus, OH 43210
Step Three: Submit the supplemental paperwork
Mail the forms and payment (unless paid online) to the address above, no later than July 5.
---
Directions and Accommodations
Visit the School of Music website for directions and parking and a list of hotels and restaurants that are close to campus.
Directions and parking
Basic driving directions, campus parking, construction and bus information.
Hotels and Restaurants
Hotels, bed and breakfast and other accommodations.
---
Contact
For questions regarding program details, contact the clinic director, Christopher Hoch, or the clinic coordinator, Tess Green, at osumb@osu.edu or by phone at 614 292-2598.