School of Music welcomes new faculty members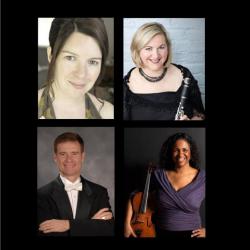 The School of Music welcomes four new faculty members this year: Johanna Devaney, assistant professor of music theory; Caroline Hartig, associate professor of clarinet; Scott A. Jones, associate professor of conducting and associate director of bands; and Juliet White-Smith, professor of viola.

Johanna Devaney's research applies a range of interdisciplinary approaches to the study of musical performance, with a particular focus on intonation in the singing voice. Johanna completed her PhD at the Schulich School of Music of McGill University. She also holds an MPhil degree from Columbia University, as well as an MA from York University in Toronto.

Her work has been published in Psychomusicology, the Journal of Interdisciplinary Music Studies, and Ex Tempore and has been presented at numerous international and national conferences, including the International Conference on Music Perception and Cognition (ICMPC), the International Computer Music Conference (ICMC), the International Society of Music Information Retrieval Conference (ISMIR), and the annual meeting of the Society of Music Theory (SMT). Before coming to OSU, Johanna was a postdoctoral scholar at the Center for New Music and Audio Technologies (CNMAT) at the University of California at Berkeley.

An acclaimed clarinet soloist and recording artist, Caroline Hartig has performed throughout the United States, Europe, and Asia. She is a leading advocate for contemporary music, performing works by leading composers including Pulitzer prize winners William Bolcom, Donald Martino and Libby Larsen. Hartig can be heard on the compact discs Dancing Solo, Clarinet Brilliante (honored as a "Critics' Choice" by The American Record Guide), Clarinet Brilliante II, and her most recent release Chalumeau, comprised of contemporary unaccompanied benchmark works for solo clarinet.

In addition to an active solo and recording career, Dr. Hartig is in demand as a master teacher and clinician and has been a guest clinician at the International Midwest Band and Orchestra Conference. She is an artist/faculty for Clarinetopia, the Vianden International Music Festival and School, Luxembourg and the Centro Studi Carlo della Giacoma in Todi, Italy.

An ardent supporter of the "composers of today," Dr. Scott A. Jones has commissioned more than 30 new compositions for wind band and chamber winds in the past decade. A firm believer in creating opportunities for students to interact with great artists of our time, musicians under Jones' leadership have collaborated with artists Frederick Fennell, Eiji Oue, David R. Gillingham, Augusta Read Thomas, Frank Ticheli, Mark Camphouse, The Empire Brass Quintet, The American Brass Quintet and a host of other distinguished musical figures.

A native of Fairfax, Virginia, Dr. Jones received his undergraduate degree in Music Education from The Ohio State University, a Master's Degree in Music Education from the Vander Cook College of Music, and a PhD in Music from the University of Minnesota. Prior to joining the faculty at OSU, Dr. Jones served as Director of Bands at Concordia College in Moorhead, MN. He also garnered 15 years of teaching experience in the public schools of Apple Valley, MN and Ashville, Ohio.

Violist Juliet White-Smith is an active international soloist, chamber musician and clinician. She has been a guest artist at Strings in the Mountains and the Fontana Festival in Michigan and has performed in the viola sections of the Rochester Philharmonic, the Houston Grand Opera Orchestra, and the Grand Rapids Symphony. Her debut CD recording of works by contemporary American composers George Walker, Michael Colgrass and Maurice Gardner (Fashionably Late: Juliet White-Smith Debuts!) was released in May 2009 on the Centaur Records label.

White-Smith is in demand as a master class teacher, clinician and adjudicator. She has presented master classes at Mahidol University College of Music in Thailand, the Eastman School of Music and for the annual conference of the American String Teachers Association. A prominent advocate of the viola, White-Smith served as President of the American Viola Society 2008-11.

White-Smith earned the Doctor of Musical Arts degree at the Eastman School of Music. Prior to her appointment at the University of Northern Colorado, she was a visiting professor at Western Michigan University.