Kris Johnson appointed to Jazz Studies faculty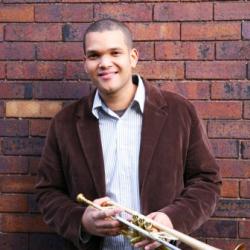 Trumpeter Kris Johnson has recently been appointed to the Jazz Studies area as an instructor of jazz trumpet, jazz improvisation, arranging and composition. He has appeared on an impressive list of albums including two Grammy-nominated releases: Tony Bennett's A Swingin' Christmas and Karen Clark Sheard's All In One. Kris toured internationally with the Count Basie Orchestra from 2008–2010 and is a prominent performer, composer, arranger, and educator. He has master's (2007) and bachelor's (2005) degrees in Jazz Studies from Michigan State University, and is an endorsed artist of CarolBrass® instruments.
Kris is proud to be one of 24 Detroit-based artists to be selected as a 2012 Kresge Artist Fellow (read more).