Ohio State Opera : "The Rape of Lucretia" : April 17 and 19
Thursday, April 17, 2014 -

7:30pm

-

10:00pm
Drake Performance and Event Center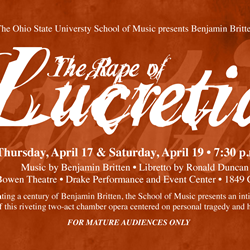 Commemorating a century of Benjamin Britten, the Ohio State School of Music will perform an Easter-weekend production of this riveting two-act chamber opera centered on personal tragedy and human redemption. Ronald Duncan based his English libretto on André Obey's play Le Viol de Lucrèce. Two evening performances at 7:30 p.m. Thursday, April 17, and Saturday, April 19, in Roy Bowen Theatre, Drake Performance and Event Center, 1849 Cannon Dr. on campus.
The production is directed by A. Scott Parry, director of Ohio State Opera Theatre; conductor is Russel C. Mikkelson. The production features a cast of eight undergraduate and graduate student vocalists and a pit orchestra of student musicians along with members of the well-known Columbus ensemble the Carpe Diem String Quartet, including Charles Wetherbee, Amy Galluzzo, Korine Fujiwara and Carol Ou.

"The Rape of Lucretia is both a powerful and troubling piece," said Parry. "It presents a horrific historical act and tries to come to terms with its purpose and ramifications, both on the personal and communal levels."

The opera, with music by Britten and libretto by Ronald Duncan, revolves around a story first described in "History of Rome," when in 509 BC, Sextus Tarquinius, the son of the Etruscan king of Rome, raped Lucretia, a noble woman and wife of one of the king's aristocratic retainers. Because of the rape by the prince, Lucrietia committed suicide and her body was carried through the Roman Forum, inciting a revolt that led to the eviction of the royal family and the founding of the Roman Republic.
Male and female choruses provide background and narration for the story, revealing their view of events to be that of a later, Christian era.

Parry said the musical style of Britten's opera is diverse - intimate and lyrical, yet not tuneful per se. "The orchestra is expressive of both the emotionality of the characters' experiences and also of the scenic environment," he said. "Crickets and bullfrogs and horse gallops and whip cracks are all presented at opportune moments to evoke mood and action." He added, "The Rape of Lucretia presents a struggle to make peace with our own mixed natures, a way of trying to understand the darker aspect of our human existences and to seek a purpose in it. Each audience member will come away with a different experience, a unique answer to the questions brought forth in the piece. It is a highly individual experience for all those involved."
For mature audiences only.
---
All seating is RESERVED. Advance ticket sales available by calling (614) 292-2295. Ticket prices are

$20/general public; $10/ConcertCard holders, senior citizens, Alumni Association members, non-OSU students. FREE to all Ohio State students, faculty and staff (one ticket per BuckID presented in person).
The School of Music announces a special admission policy for the 2014–2015 concert season.

As our gift to the community, our concerts, with just a few exceptions, are FREE TO ALL. No tickets required.

The previous BuckID = FREE and ConcertCard programs will not be in place for this year.

For the events that will be ticketed, find the box office details with the event listing in web events calendar and detailed below.

For the few premium events that do require admission - tickets are available for advance sales through the Ohio State Theatre Box Office. Call 614 292-2295 or visit the box office at the Drake Performance and Event Center, 1849 Cannon Dr. (2nd floor, off the lobby), Mon.-Fri., 10 am–4 pm.

Tickets for School of Music events in Mershon Auditorium are only available through the Wexner Center for The Arts. Visit wexarts.org/tickets or call 614 292-3535.

Tickets for all events are also available at the event venue box office, one hour prior to performance.
Note: the Weigel Auditorium Box Office accepts cash or check only.

Special Events
$20 general public
$10 Ohio State Students, faculty and staff, senior citizens, Alumni Association members, non-OSU students & children.
Student Recitals: No Ticket Required

Concert programs are subject to change without notice. For further event information visit the Event Calendar or call 614 292-6571.