Musicology Lecture Series : Vladimir Marchenkov
Monday, March 18, 2013 -

4:30pm

-

5:30pm
Music/Dance Library, Rm. 205, 18th Ave. Library,* 175 W. 18th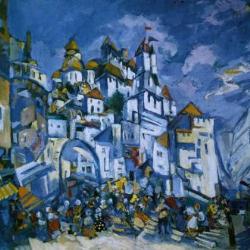 Vladimir Marchenkov, Professor of Aesthetics and Theory, Ohio University

The Archaic Modernist: Rimsky-Korsakov and The City of God

Nikolai Rimsky-Korsakov and Vladimir Belsky's 1905 opera The Legend of the Invisible City of Kitezh and Maiden Fevroniia was a marriage of a medieval Russian legend to the modern operatic stage. The opera's plot is the story of an earthly city transfigured and saved from invaders by a saintly maiden's prayer. The composer himself chuckled that it was his most "mystical" opera but it acquired an earnestly mystical reputation spanning the entire twentieth century. Read more

Vladimir L. Marchenkov is professor of aesthetics and theory at the Ohio University School of Interdisciplinary Arts in Athens, Ohio, USA. His research interests include philosophy of music, theory of myth, Russian philosophy, and Asian aesthetic thought.
Pictured: The Invisible City of Kitezh (1930), Konstantin Korovin
* The building formerly known as Science and Engineering Library (SEL) is now named 18th Avenue Library.
The School of Music announces a special admission policy for the 2014–2015 concert season.

As our gift to the community, our concerts, with just a few exceptions, are FREE TO ALL. No tickets required.

The previous BuckID = FREE and ConcertCard programs will not be in place for this year.

For the events that will be ticketed, find the box office details with the event listing in web events calendar and detailed below.

For the few premium events that do require admission - tickets are available for advance sales through the Ohio State Theatre Box Office. Call 614 292-2295 or visit the box office at the Drake Performance and Event Center, 1849 Cannon Dr. (2nd floor, off the lobby), Mon.-Fri., 10 am–4 pm.

Tickets for School of Music events in Mershon Auditorium are only available through the Wexner Center for The Arts. Visit wexarts.org/tickets or call 614 292-3535.

Tickets for all events are also available at the event venue box office, one hour prior to performance.
Note: the Weigel Auditorium Box Office accepts cash or check only.

Special Events
$20 general public
$10 Ohio State Students, faculty and staff, senior citizens, Alumni Association members, non-OSU students & children.
Student Recitals: No Ticket Required

Concert programs are subject to change without notice. For further event information visit the Event Calendar or call 614 292-6571.