Musicology Lecture : Gleb Tsipursky, The Ohio State University
Monday, February 3, 2014 -

4:30pm

-

6:00pm
18th Avenue Library (Room 205), 175 W. 18th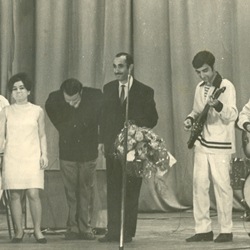 Gleb Tsipursky of The Ohio State University discusses "Soviet Jazz Networks and the Cold War in the 1960's."
Soviet jazz networks - the network of contacts between jazz musicians, promoters, and fans - played an important role in the musical life of the Cold War Soviet Union. This presentation traces the gradual growth of these jazz networks from the local level to the city, province, country-wide, and even international level. New institutions and events, such as jazz clubs, jazz exchanges, youth cafes, and jazz festivals, enabled this growth, and these networks impacted everyday lives. Moreover, these jazz networks played an important role in the Soviet domestic cultural front of the Cold War, regarding Soviet jazz musicians visiting international jazz events and foreign jazz musicians coming to the USSR. The evidence shows that Soviet jazz exchanges with other socialist states strengthened Soviet bloc unity by creating a more cohesive socialist musical sphere, with the varied countries reinforcing each other's musical production. Yet such cross-border interplay enabled the rapid spread of western cultural influence from the most westernized socialist countries to the USSR, contributing to the population's fascination with western popular culture and especially music, an important factor in the eventual Soviet demise. As for jazz exchanges with western capitalist states in the 1960s, this research suggests that such interactions contributed to Soviet and western cultural diplomacy goals by humanizing the foreign "Other" and ameliorating tensions, thus helping lead to détente.

Gleb Tsipursky is an assistant professor of history at The Ohio State University, Newark Campus. He writes about modernity, youth, popular culture, consumption, emotions, the Cold War, globalization, social control, policing, and violence in the Soviet Union. He has published a brief monograph in the Carl Beck Papers series, entitled "Having Fun in the Thaw: Youth Initiative Clubs in the Post-Stalin Years" (University of Pittsburgh Press, 2012). He is now completing a monograph entitled "Socialist Fun: Youth, Consumption, and State-Sponsored Popular Culture in the Cold War Soviet Union, 1945-1970." His next planned project is a study on volunteer militias in the USSR and post-Soviet Russia. He has been awarded fellowships by the Kennan Institute, the American Council of Learned Societies, the International Education Program Service, and the International Research and Exchanges Board.
---
Upcoming Musicology Events
Tickets for School of Music concerts are available for advance sales through the Ohio State Theatre Box Office.
614-292-2295.
Tickets for School of Music events in Mershon Auditorium are only available through the Wexner Center for The Arts.
Visit wexarts.org/tickets or call 614-292-3535.
Tickets for all events are also available at the event venue box office, one hour prior to performance.
Note: the Weigel Auditorium Box Office accepts cash or check only.
Faculty, Guest Artist, and Student Ensemble Concerts
$10 general public
$5 senior citizens, Alumni Association members, non-OSU students & children
Ohio State students, faculty and staff – 1 Free ticket with BuckID presented in person. Subject to availability.
Concerts in Weigel and Hughes Halls Free to ConcertCard holders
Special Events
$20 general public
$10 ConcertCard holders, senior citizens, Alumni Association members, non-OSU students & children
Ohio State students, faculty and staff – 1 Free ticket with BuckID presented in person. Subject to availability.*
*Does not include Marching Band Concert or Drums Downtown. Tickets $10.
Student Recitals: Free!!
Concert programs are subject to change without notice. For further event information visit the Event Calendar or call 614 292-6571.
For more information visit the School of Music Box Office FAQs page.
How can I avoid lines at the door and purchase tickets in advance?
Are tickets available at the door?
What is Reserved Seating?
How can I obtain my Free ticket with my BuckID?
The OSU School of Music ConcertCard is the pinnacle of concert passes! Support the School of Music with the purchase of this special card, which allows admission for up to six people to all School of Music concerts in Weigel and Hughes Auditoriums, all year long. Also receive additional discounts on School of Music events in other venues and on OSU Theatre and Dance events.
ConcertCards are available for advance purchase, with a credit card, by calling 614-292-7258.