Mozart's Requiem : Chorale, Symphonic Choir, Men's and Women's Glee Clubs, Symphony Orchestra
Sunday, March 3, 2013 -

3:00pm

-

4:30pm
Mershon Auditorium, 1871 N. High St.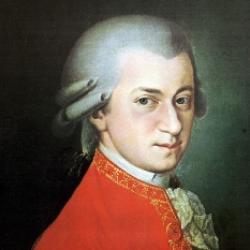 It has been over a decade since the wonderful and mysterious Requiem in D Minor has been presented on the Ohio State campus. Conducted by Robert Ward, director of choral activities, the powerful piece will bring together Ohio State's Chorale, Symphonic Choir, Men's Glee Club, Women's Glee Club, and Symphony Orchestra. In all, this performance will feature 252 vocalists and 35 orchestra members. The 3 p.m. program will begin with remarks, "Mozart and Myth: Laying the Requiem to Rest" by Dana Plank-Blasko, PhD student, historical musicology.
The Requiem, written in 1791, was Wolfgang Amadeus Mozart's final composition. Without completing the piece, he died on December 5, 1791 at age 35. His wife Constanze found a former student of Mozart's - Franz Sussmayr - to complete the Requiem. It was first performed in 1793 in Vienna. Following the September 11 attacks, the Requiem was performed simultaneously in cities around the world. Event poster
Mozart's Horn Concerto No. 2 in Eb, K. 417 will also be performed on this concert, with Joshua Michal as featured soloist with the Symphony Orchestra, conducted by Marshall Haddock. Joshua Michal is currently the graduate teaching associate for the horn studio at The Ohio State University where he is pursuing a DMA in horn performance. Previously, Josh received his MM from Northwestern University and BM from Indiana University with additional studies at Bowling Green State University and the IES Institute in Vienna, Austria. His principal teachers include Bruce Henniss, Elizabeth Freimuth, Gail Williams, Jeff Nelsen, Volker Altman, Michael Hoeltzel, Richard Seraphinoff and Michael Hatfield.

Josh can be heard on the Resound Label with the Chicago Symphony Orchestra performing Mahler's Symphony No. 2 and on the Analekta Label with L'Orchestre de la Francophonie Canadienne as solo horn for Symphony No. 4 by Bruckner, and Richard Strauss' Don Juan.

As an active freelance musician, Josh performs regularly with the Dayton Philharmonic Orchestra and the Columbus Symphony Orchestra and holds the chair of 4th horn in the Springfield Symphony. He has also recently performed with the the Cincinnati Symphony Orchestra, the Charleston Symphony (SC), the Breckenridge Music Festival Orchestra (CO), the Boston Brass and the Chicago Brass Ensemble and is a former member of the Civic Orchestra of Chicago.
Tickets
$20 general admission; $10 ConcertCard holders, senior citizens, Alumni Association members, non-OSU students, and children. FREE to all Ohio State students, faculty and staff (one ticket per BuckID presented in person). Advance ticket sales at (614) 292-3535 or wexarts.org.
The School of Music announces a special admission policy for the 2014–2015 concert season.

As our gift to the community, our concerts, with just a few exceptions, are FREE TO ALL. No tickets required.

The previous BuckID = FREE and ConcertCard programs will not be in place for this year.

For the events that will be ticketed, find the box office details with the event listing in web events calendar and detailed below.

For the few premium events that do require admission - tickets are available for advance sales through the Ohio State Theatre Box Office. Call 614 292-2295 or visit the box office at the Drake Performance and Event Center, 1849 Cannon Dr. (2nd floor, off the lobby), Mon.-Fri., 10 am–4 pm.

Tickets for School of Music events in Mershon Auditorium are only available through the Wexner Center for The Arts. Visit wexarts.org/tickets or call 614 292-3535.

Tickets for all events are also available at the event venue box office, one hour prior to performance.
Note: the Weigel Auditorium Box Office accepts cash or check only.

Special Events
$20 general public
$10 Ohio State Students, faculty and staff, senior citizens, Alumni Association members, non-OSU students & children.
Student Recitals: No Ticket Required

Concert programs are subject to change without notice. For further event information visit the Event Calendar or call 614 292-6571.