HalleBOOia! The 20th Annual Halloween Concert
Friday, October 25, 2013 -

8:00pm

-

9:30pm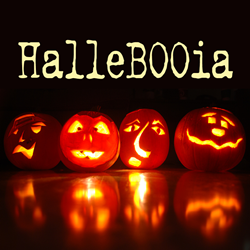 This popular costumed concert features student choral and instrumental ensembles with performers (and audience) in full Halloween attire, including the Double Bass Ensemble, Cello Orchestra, Horn Ensemble, Women's Glee Club, Ladies First, Flute Troupe, The Statesmen, New Orleans Traditional Swing Combo, Bassooni Lampooni Platooni, and piano soloist Matt Ebright.
If dressing up isn't your thing, come as you are. It's a blast either way!
Tickets are $10/general public; $5/senior citizens, Alumni Association members, non-OSU students, children. Free ticket with BuckID presented in person for Ohio State students, faculty, and staff (subject to availability). Free to Concert Card holders (admission for up to 6 people). Advance ticket sales at 614-292-2295 M-F 10am-4 pm (major credit cards accepted); tickets at the door one hour prior to the concert (Weigel box office accepts cash or check only).
Box office FAQ and visitor parking information
The School of Music announces a special admission policy for the 2014–2015 concert season.

As our gift to the community, our concerts, with just a few exceptions, are FREE TO ALL. No tickets required.

The previous BuckID = FREE and ConcertCard programs will not be in place for this year.

For the events that will be ticketed, find the box office details with the event listing in web events calendar and detailed below.

For the few premium events that do require admission - tickets are available for advance sales through the Ohio State Theatre Box Office. Call 614 292-2295 or visit the box office at the Drake Performance and Event Center, 1849 Cannon Dr. (2nd floor, off the lobby), Mon.-Fri., 10 am–4 pm.

Tickets for School of Music events in Mershon Auditorium are only available through the Wexner Center for The Arts. Visit wexarts.org/tickets or call 614 292-3535.

Tickets for all events are also available at the event venue box office, one hour prior to performance.
Note: the Weigel Auditorium Box Office accepts cash or check only.

Special Events
$20 general public
$10 Ohio State Students, faculty and staff, senior citizens, Alumni Association members, non-OSU students & children.
Student Recitals: No Ticket Required

Concert programs are subject to change without notice. For further event information visit the Event Calendar or call 614 292-6571.